Manic:  Looking for yummy and healthy recipes that my family will love and that I can share here on my website.
Managed:  Contacted Grand Central Publishing to ask permission to share a couple of recipes from Gwyneth Paltrow's amazing new cook book called, "My Father's Daughter" and they said yes!  So read on to get her amazing mac and cheese recipe that had my teenage son asking for more….two days in a row!  That rarely happens, as he is not a big left-overs fan!
And I must tell you, that I love her cook book! 
Not only is Gwyneth Paltrow a fantastic actress (and now we know that she is a good singer, too), but she is also a busy mom that loves to cook for her family.  And she seems pretty cool, too!
Check out her blog at www.goop.com to see some more of her delicious recipes.  I love her website and I thank Gwyneth for sharing her family recipes (many are from her beloved late father, Bruce Paltrow) for manic managed moms everywhere.  I've made several of her recipes and I love all of them so far!  And her book is fun to get and give as a gift, because she includes some fantastic family pictures and a ton of photos of the finished dish, which this wanna-be chef, appreciates!
Gwyneth Paltrow's Macaroni & Cheese (A few Ways)
from the book, "Gwyneth Paltrow:  My Father's Daughter"
(permission to share granted by Grand Central Publishing)
What You Need: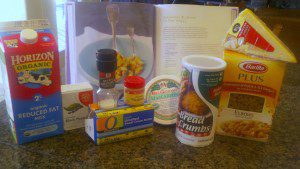 1 pound elbow macaroni (preferably with ridges)
8 ounces mascarpone
Pinch freshly grated nutmeg (I say yum to this….great idea, Gwyneth!)
1 cup tightly packed grated Parmesan cheese, plus 1/2 cup for topping
1/2 cup milk
Coarse salt
Freshly ground black pepper
1/2 cup plain bread crumbs
2 tablespoons unsalted butter
***The book shows additional variations to the mac and cheese.  To get those tasty ideas, buy the book.  You will love this cook book!  I do!***
It can be purchased at Barnes & Noble at this link: http://ow.ly/52erYW
What You Do:
1. Preheat the oven to 400 degrees and turn it on to convection, if that's a possibility.  (I don't have a convection oven, but my mac and cheese turned out perfectly, so don't worry if you don't have one.)
2.  In a large pot of boiling salted water, cook the macaroni for 2 minutes less than indicated on the package.  (Great tip from Gwyneth, as my pasta came out perfectly in this dish!)
3.  Meanwhile, stir together the mascarpone, nutmeg, and 1 cup of the Parmesan in a small sauce pan over a medium flame until cheeses melt together, about 2 minutes. 
4.  Stir in the milk and salt and pepper to taste and keep the sauce warm over a low flame. 
5.  Drain the pasta and combine it with the sauce. 
6.  In a small bowl, stir together the remaining 1/2 cup of Parmesan and the bread crumbs. 
7.   At this point, you can put the macaroni in a large baking dish, scatter the bread-crumb topping over it, dot with butter and bake it for 15 minutes. 
And it tasted scrumptious!  My husband and son especially loved it! 
As I mentioned earlier, it was the perfect left over the next evening as well.  It reheated nicely.  For my own purposes (this in not in the book), I added a little bit of half and half the next day, just for reheating purposes.  It worked well.
Try this recipe tonight.  So easy, so pleasing and so good.  The perfect recipe for manic managed moms everywhere.  Thanks Gwyneth Paltrow!  We are big fans 🙂