Manic:  Anything that is a home improvement project!  I simply don't possess those skills!
Managed:  Being inspired by managedmoms.com contributor and design on a dime expert, Bridget!  When she recently told me about how she ripped out her home office flooring to install a new one, I was quite…well…floored!  This is something that I could never attempt to do myself, but she did!  So check out how she did it and be inspired to redesign your own home with Bridget's top tips….
Bridget says:
When I started this design, I had no idea what I was doing or how to do it.  I just knew that we needed a new floor in our home office.  We had this terrible shag carpet that was dirty and it was starting to bulge.  Every time I walked by it, I just cringed.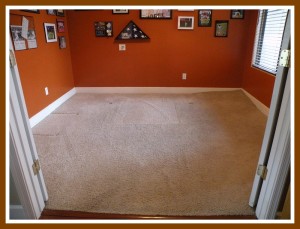 And I couldn't stand that it was the first room folks see upon entering our home.   I just had to do something with it!  So, first I went carpet shopping and the prices weren't bad.  The carpet for this small room would come to about $450, including the pad.  I also needed new tack stripping which runs about $2.00 a linear foot.  Then there is the labor, which would have been about $200.  I kept questioning whether or not  I really wanted carpet in that room again.  Living in Arizona with all the dust and sand in the air, it would eventually be in my carpet and down into the padding.  I had been researching for awhile about staining and painting concrete floors.  I just love the Rustic look of the concrete floor and the easy clean up is an added bonus!  So I decided to do it myself!  I ripped out my carpet and the padding and I pulled up the tack stripping. Once all that was done, it was time for the big job.
So I stripped off the glue that was attaching the pad to the floor.
I used Stripping glue remover that cost me $25 a jug and I used 2 jugs in all.  As I applied the glue remover, I did a 2'x2′ section, one at a time.  Next I let it set on floor for 3 minutes until it bubbled.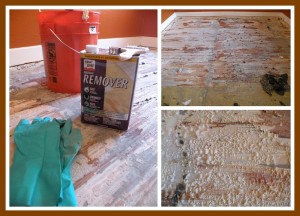 Then I stripped it with a stripping blade with extra blades on hand that I could switch out.  The stripper blade and extra blades sell at
Home Depot
for $15.  Once the glue was up, I filled in some holes in the concrete, that resulted from where the nails had been from the tack stripping.
24 hours later, after the concrete patch dried, I sanded it a little to get it smooth.  The concrete patch cost me $6.  I then swept and cleaned the floor with hot water and vinegar.  Next, I started my first coat of concrete paint, which cost me $26 a can for the  
Behr concrete brand
.  I had it mixed to a nice Tuscan Sun color, which is a perfect shade for our desert dwelling.  After that, I let the first coat dry for 24 hours.  Then I put on a second coat, which was very simple.  I let that dry for 48 hours.
My next step was to apply a top coat of Epoxy sealer, so that the floor won't chip and scratch.  I then added a 5'x8′ rug that I ordered from
Overstock.com
for $69.99, which included a $2.95 shipping cost.  I did this whole project for around $220.00!  It took me a week and I had to stop and start again several times due to kids, school and sports etc….you know how that goes, busy moms and dads out there!  I should have waited until summer break, but its done and I love my new rustic looking office!  And now that it is summer vacation, I am enjoying this all the more!  I love my new office with my beautiful flooring and nice window that overlooks the scenic mountains.  The new floor makes the entire room feel brand new, which is a great feeling!
The stains that are available are absolutely beautiful, but for my first attempt, I decided to do a paint.  My floor is clean and my room looks so fresh and bright!
And the best part is that all I have to do to keep it clean is mop with vinegar water.  A mild soap can also be used to clean the new floor.  My dog especially likes it, because the floor is so much cooler to lay on, so the whole family is really enjoying my floor work!  Do you like it?  Have you done something similar?  Share with us in the comments section!
And Happy Home Designing on a  Dime!  It can be done!  Be inspired!!