Manic:  How much kids forget academically over the summer break!
Managed:  Taking our managedmoms.com writer and teacher, Lisa Walton's advice about how  to get kids to read over the summer.  Take a look at her terrific tips…
Lisa says:
My son and I began compiling our summer reading list in early May.  We began fulfilling our wish lists and gathered books from his school book fair, borrowed books from the library, and cashed in some gift cards at the local bookstore.  We are stocked and happily delving into some of our favorite authors' latest novels!  We are avid readers in our family, but not everyone loves to read, or likes to do so during summer vacation.  Want to get your child reading more this summer?   Read below for some suggestions, summer reading programs, and age-appropriate book recommendations (from kids and librarians).
Getting Kids to Read over the Summer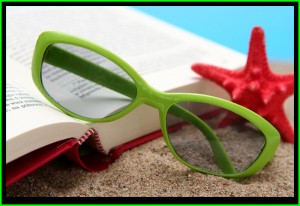 Let them chose some of their reading materials:  Let them pick a variety of different reading materials that interest them.  Comic books, magazines, novels, non-fiction, poetry, and even joke books allow kids to learn to enjoy reading for different purposes.  If your child is really into skateboarding, find books related to that, or subscribe to a magazine about it.  Help hone their interest and encourage reading at the same time.  Not every book they read has to be from the approved summer reading book, let them have some choices.
Provide incentives or a challenge:
Many places like bookstores and public libraries offer summer reading programs (see some below).  I used to make a reading chart for my son and added some other fun summer incentives for meeting his goal (ice cream, go to the movies, swimming with a friend).
Set a time to read together:
Model reading for your child.  When they see that you value reading and set aside time to do so, they will also see the importance of reading for themselves.  Share what you are reading with other family members, ask them about their books, or pick a book as a family and have your own book club at home!
Read the first book of a series: 
The love of reading comes intrinsically.  Sometimes it just takes that one special book to spark their interest and love of reading.  I used to find book series that I thought my son would enjoy.  We'd read the first one together, and usually that was all it took; he was off and running and couldn't wait to read the whole series.  Sometimes it just takes some research on your part to find things that will appeal to them.  My son loves Fantasy books and some of his favorite series at the intermediate levels are Percy Jackson, Fablehaven, Lost Heroes, Kane Chronicles, 39 Clues, and Disney's Kingdom Keepers.
Summer Reading Programs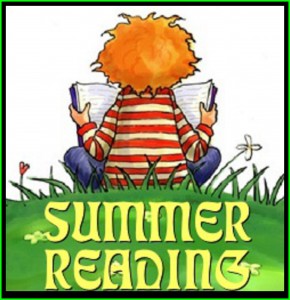 Barnes & Noble:
The Barnes & Noble Summer Reading Program encourages kids to read books of their own choosing and earn a FREE book, simply by following these three easy steps:
1. Read any eight books this summer and record them in the Barnes & Noble Summer Reading Imagination's Destination Journal. Be sure to let us know to whom you would recommend each book, and why.
2. Bring your completed journal to a Barnes & Noble store between May 22nd and September 4th, 2012.
3. Choose your FREE reading adventure from the book list featured on the back of the journal.
Public Library: 
Most public libraries have a summer reading program for kids.  Our local library lets kids earn little prizes along the way, and those who complete the entire program are given baseball tickets to watch our local MLB team play!  They are free to enter, and fun for the kids to record and watch their progress.  The library is also a great place to stay cool during those hot months.
Read, Play, Win! Summer Reading Program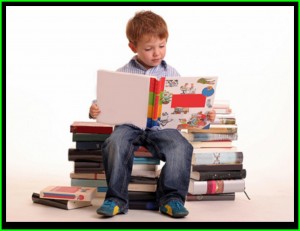 Kids, birth to age 18, can Read, Play, Win! May 29 – July 28 at Phoenix Public Libraries from Tue, May. 29, 2012 – Sat, Jul. 28, 2012 (for ages 0-18).  Read, play and win this summer in the summer reading program at your library! Sign up to get a free ticket to an Arizona Diamondbacks game. Pick up your game board at any Phoenix Public Library location or print on online (www.phxlib.org ).  Sponsored by The Arizona Republic and the Arizona Diamondbacks with additional support from Friends of the Phoenix Public Library.
Need Book Suggestions??
Children's Choice Book Awards
The awards program is based on Children's Choices, a joint project of the International Reading Association (IRA) and the Children's Book Council since 1975. Publishers submit hundreds of titles to be evaluated and voted on by over 10,000 children. Throughout the school year, five review teams, located in different regions of the United States, work with their local classroom teachers and school librarians to incorporate the books into classroom activities. The most popular titles, as voted on by children whose teachers are involved in the project are chosen as the finalists. Winners are announced at the Children's Choice Book Awards gala as part of Children's Book Week, the oldest national literacy event in the United States.  Here are this year's winners:
Illustrator of the Year
Brian Selznick for Wonderstruck

Author of the Year
Jeff Kinney for Diary of a Wimpy Kid 6: Cabin Fever

2012 Winners and Nominees:

K-Grade 2:
• Three Hens and a Peacock by Lester L. Laminack–Winner!
• Bailey by Harry Bliss
• Dot by Patricia Intriago
• Pirates Don't Take Baths by John Segal
• Zombie in Love by Kelly DiPucchio

Grades 3-4:
• Bad Kitty Meets the Baby by Nick Bruel–Winner!
• A Funeral in the Bathroom: And Other School Bathroom Poems by Kalli Dakos
• The Monstrous Book of Monsters by Libby Hamilton
• Sidekicks by Dan Santat
• Squish #1: Super Amoeba by Jennifer L. Holm and Matthew Holm

Grades 5-6
• Okay for Now by Gary D. Schmidt–Winner!
• Bad Island by Doug TenNapel
• How to Survive Anything by Rachel Buchholz
• Lost & Found by Shaun Tan
• Racing in the Rain by Garth Stein

Teen Choice:
• Clockwork Prince by Cassandra Clare–Winner!
• Daughter of Smoke and Bone by Laini Taylor
• Divergent by Veronica Roth
• Passion: A Fallen Novel by Lauren Kate
• Perfect by Ellen Hopkins
Award Winners
2012 Newbery Medal
Dead End in Norvelt
by Jack Gantos
The Newbery Medal is awarded annually by the American Library Association to the author of the most distinguished contribution to American literature for children. The 2012 Newbery Medal winner is Dead End in Norvelt, written by Jack Gantos.
2012 Caldecott Medal
A Ball for Daisy
by Chris Raschka
The Caldecott Medal is awarded annually by the American Library Association to the artist of the most distinguished American picture book for children. The 2010 Caldecott Medal winner is A Ball for Daisy, by Chris Raschka.
More recommendations:
Association for Library Service to Children (ALSA):
Happy Reading!!
About our writer Lisa Walton:
Lisa Walton–Parenting tips, Valley Teacher and Mother
Lisa Walton has been a teacher in the Valley for over 18 years. She holds a Bachelor's Degree in Deaf Education from Illinois State University; and Master's Degree in Special Education from Arizona State University.  She currently works as an itinerant teacher, collaborating with regular education teachers in the public schools.
Read more about Lisa on our team bio page