We at managedmoms.com are so excited about all of the precious pet pics that our readers have been sending us!  Thank you!  Take a look at this week's super cute kitty who is named Pokey Dot and I bet you can figure out why….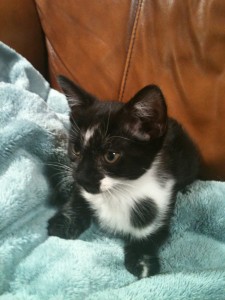 What a cutie!  She is precious!  Thank you to our reader, Theresa for sending in this pretty picture of her neighbor's new kitten!
And I must share that the little black kitty named Lucy that my daughter adopted from the shelter through Petco has been just a wonderful cat for us!  She never goes anywhere but her litter, she only claws her scratching post and is super loving with our family!  Consider adopting a cat….the shelters have an overabundance of cats and kittens this summer.  We are in love with our Lucy!  I will post some updated pictures of her next weekend!
Send your pet pics to [email protected] and enjoy the rest of your weekend!