Since we have been running our weekly pet pic, some of you notify us when your beloved pet passes on.  We have run several weekly pet pic posts that honor and celebrate the life of that special cat or dog who enhanced the family's life so much.  Today we do it again with the passing of K.D., who was 19 years young.  Wow!  19!  We know that this cat was well cared for, loved and treasured every day.  Just take a look….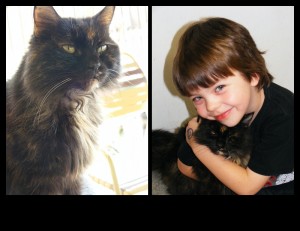 And I can tell you that I know that firsthand because I know the family that is mourning the loss of sweet K.D. this week.  Mama Marty works with me on the KTVK morning show that I appear on and she is always a pro, warm and wonderful to work with, so I know that K.D. was showered with love.  And Marty's kids are precious, as you can see in the picture of her cute boy giving K.D. a big squeeze and a lot of love.
So today we honor the life of the cool K.D. and we celebrate the love that Marty's beautiful family gave to this awesome cat.  Rest in peace, K.D. and thank you for giving your humans 19 years of companionship.
Send us your pet pics.  We love to get them and post them, as they are such special members of the family.  Email to [email protected].