To wish everyone a happy and safe Halloween, today we post a fun picture of our Halloween kitty, Lucy and her two big brothers….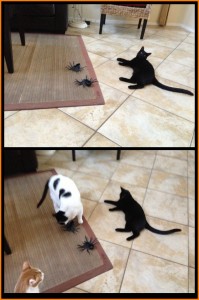 As you can see in the first picture, Ms Lucy must have taken the spiders from our Halloween decor and put them on the floor for playtime.  Her big brothers came over to see what she found.  I must again stress that our black cat, Lucy has been one of the best rescue cats ever, so it is not true that Halloween black cats aren't nice because our special black kitty is awesome!
Have a safe Halloween and we continue to send to huge prayers to everyone in the Northeast as they begin the long and painful recovery process from the terrible storm.