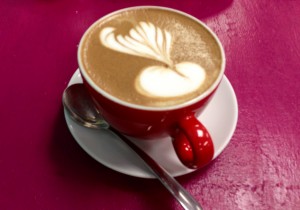 Manic:  These last few weeks with multiple home repairs, a sick teenager and more….and just when I thought the storm had passed….we woke this morning to the loud screeching noise of all of our smoke alarms going off!  Ugh!
Managed:  Making time to stop and catch my breath with a yummy hot peppermint mocha at the very healthy Pomegranate Cafe.  But before I gave myself that much needed 15-minute break, here is what had to happen first….
Did I mention that our smoke detectors did this to us two years ago on New Years Eve?!  On that festive evening turned frustrating, we learned that if one detector is set off, then it trips every single one of them. That requires a ladder as you go from one to the other taking them all down.  A very tedious job indeed.  And on that evening, it was turning on our heat that set them off.
Fast forward two years to this morning.  Even though we have had record low temperatures in Phoenix for the last five days, we hadn't turned on our heat because our two fireplaces (which we didn't run on no burn days) warmed us enough.  We avoided turning the heat on because we were afraid of the smoke detectors being set off.  So this morning, I woke at 5:45am to turn on our bedroom gas fireplace.  Then I crawled back under the covers for a 15-minute snooze before my alarm was due to go off at 6am.
Instead of my phone alarm buzzing me, our entire household shot out of bed at 5:59am when the smoke alarms starting going off.  If you have ever experienced this, it is not a pleasant noise, whatsoever!  It truly hurts your ears, which I know is the point…to wake you from a deep slumber fast.
Thank goodness there was no fire!  First and foremost, I'm thankful.  Now I'm going back to complaining…
So hubs had to grab the ladder and take each one down again.  Was it our fire place?  We hadn't turned on the heat this year, so we were puzzled.  And of course today I had a freelance job to go to, so scheduling a repair man would have to wait until this afternoon.
In the meantime, I asked my neighbor (who is also my very close gal pal) to look out at her window to check my house throughout the morning to make sure she didn't see smoke.  We were sure that we didn't have a fire brewing, but we didn't know what was causing the smoke alarms to go off…yet again!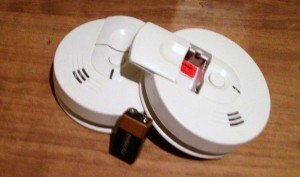 Well, guess what we discovered when the repairman came this afternoon?!  Our home never had smoke detectors to begin with!  Nope!  The detectors that were installed in our home were actually heat detectors!  I had no idea that there was even a difference!  And our heat detectors have become faulty, so the least bit of heat coming from a fireplace or heating vent, can at some point, set them off. So the fireplace must have set it off and with our extreme cold weather this week, the alarms were super sensitive!  It was 25 degrees this morning at 6am and that is not normal for Phoenix, Arizona!
So now we have to get every single detector replaced and my other home repairs continue to be made as well.
I guess I need to suck it up and accept that January is just gonna be one of those pesky months for us!  So I decided since it isn't summer, a lemonade break wouldn't soothe me…so when life gives you lemons (in the unusually cold winter we are having in Phoenix)….have a hot peppermint mocha!  And if you live in the Phoenix area, have that mocha at truly the best and healthiest cafe around, Pomegranate Cafe located at 40th Street and Chandler Blvd. in Ahwatukee.
What do you do to destress when life gives you lemons in the cold of winter?