Manic:  My family's eating lately as we have been eating out way too much as my son's hockey season was winding down and my girl's Ahwatukee Children's Theatre performances have been in full swing!  I've got to get some homemade meals back on the table.
Managed:  Dove in last night with a recipe for homemade Shepard's Pie that I thought my family would love because of the meat (I used lean, organic, hormone-free and grass fed beef) and homemade mashed potatoes plus the veggies that I could sneak in that made me happy to feed them this English favorite. Well…they liked it, but they didn't love it.  I have a dinner saying in our home when I try a new recipe.  I ask them if it is a repeat or a reject.  My hubs has a nice rule….if I made it, they have to eat it to respect the work that I put into it and I appreciate that gesture.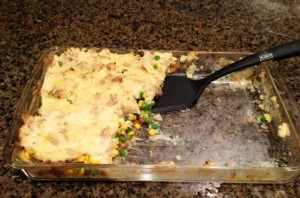 So as you can tell by the half-eaten pie, they did eat it and they didn't give it a reject rating either, but they are NOT anxious for me to make it again.  So for me, it is a reject.
So as I struggle to come up with new ideas for my family and for this blog, I invite you to send me your family's favorite recipe for me to prepare, share on this website and hopefully add your recipes to my family's favorites.  And for taking the time to send me your recipe, you will have a chance to win a $50 gift card to the restaurant of your choice!  I will actually have two winners….the person who sends me a recipe that ends up being my family's favorite AND I will put everyone in a drawing for an opportunity to win a gift card just so you all get a chance to win….even if my picky family doesn't choose your meal idea.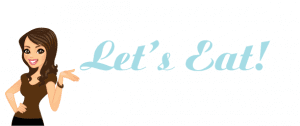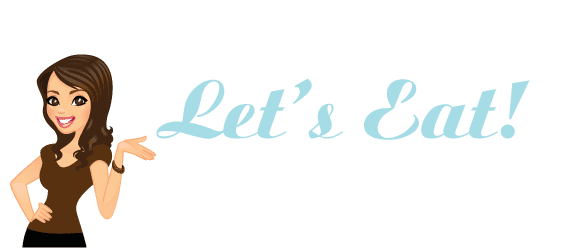 So here are the very simple rules….
1.  Email your recipe to me at [email protected].
2.  I will take dinner and breakfast ideas since my family thinks that having breakfast for dinner is fun to do sometimes.
3.  My girl is allergic to tree nuts (peanuts are fine) and shellfish, so no fish recipes, please.  Plus my boys don't like fish…darn!  I love a good salmon, but not my finicky family.
4.  Email your recipe to me by 10pm Saturday, March 30th, but please feel free to email me recipes right away, so I can get started.
5.  You can send me up to 2 recipes per person, but your name will only go in the drawing once for the chance to win the second gift card to keep it fair.  As far as the family choosing your recipe, if you send in two recipes that gives you double the chance to win over their taste buds!
6.  The first winner will be selected by my family based on the recipe that they select as their favorite.  The second winner will be drawn through random. org.  Both winners will be posted on this website on Saturday, April 20th so that I have enough time to prepare each recipe for my family to try.
7.  If you email me a recipe, you give me your permission to share it on this blog, so that our readers can try your yummy dish, too.
A little about my family's tastes to help you out….
They like protein and pasta a lot.  They also like Mexican food with a little kick, but it doesn't have to be extra spicy.  They also like some Asian dishes that are noodle or rice-based.   Their favorite veggies are broccoli, carrots and green beans.  A few items that they enjoy that I'm proud of…they will eat spinach in dishes like lasagna as long as it isn't overbearing.  They love avocado and fresh fruit of most varieties.  They eat whole grain pastas, skim milk and 100% whole wheat bread.  They appreciate black beans and healthy snacks like peanut butter, banana & honey on whole grain sandwiches, hard boiled eggs and freshly made guac on baked tortilla chips.  However like most teens and tweens, they do tend to be picky and my entire family all share a sweet tooth, so we try to monitor each other.
So that's it.  Let me know if you have questions at [email protected].
Let's get cooking and good luck!