This is what my fortune in my cookie said that I opened two weeks ago….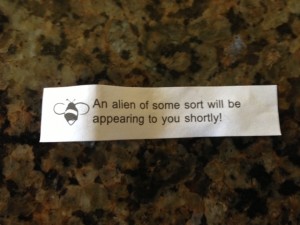 I thought that was so strange so I took a picture of it.  And sure enough, I did sort of have an alien appear to me in the form of a computer hacker.  This rude person caused me some inconvenience, but he also did me a favor.  He forced me to meet with my webmaster and to learn as much as I can about online security.  And what I learned may be helpful to you as well, so read on.
But first I must thank you all for your support, your kind emails and especially those of you that told me to keep the website going because you value this blog and our tips so much.  Thank you!  You made a tough week a little lighter and I appreciate that.
I'm not going to tell you too much about the hacker because I'm currently working with both the Phoenix Police Department and the FBI Online Crimes Unit on the investigation.  However, I can tell you at this point that this silly person didn't harm me or the website….yes, I'm hacked about the hacking (pun intended), but I'm glad that the security measures that we have in place (which have since been beefed up) kept his antics to a minimum.  But here is what I did learn….
*I was smart to have a webmaster in place and on call who is constantly monitoring my website, along with myself.  If you have a website, I highly recommend hiring a webmaster.  I use Matt with GreenishOrange and I highly recommend his services.
*The police officer that I'm working with on this case told me that we all should change our passwords on all of our online accounts every six months or every quarter.
*Dumb me used the same password on two accounts.  Don't do that.  I was lazy and didn't want to have to think of yet another password when I opened my Twitter account, so the hacker also hacked my Twitter.   Make sure that every account you own has a different password, period.
*My webmaster told me about a free app that gives your email accounts extra protection.  It is called Google Authenticator and if you sign up for this free service, you get an extra password for extra security each time you sign into your email account.   Here is how it works…you sign on to your email as usual with your user name and your password, but then you check your text message on your phone for your second password that is sent to you from Google Authenticator.  Your email won't open until both passwords have been typed in and since it is sent to your smart phone, would be hackers can't get in, even if they somehow get your user name and first password.  Pretty cool.
So that is my update for now.  Thank you for your patience as I take a few days to get caught up.  The hacker didn't hurt me, but he did force me to take some serious time out to implement all kinds of security measures on all of my online accounts.  Sadly, hacking is a sign of the times and it is happening to a lot of us, even big company websites like Bashas and AJs grocery stores recently.  You may remember that Twitter was hacked a few weeks back, too.
What online security measures do you take to secure your passwords and online activity?  Share here in the comments section as we are all in this crazy online world together.  Hard to believe that my childhood didn't include computers and cell phones.  My, how fast things change!