I love what my family did for me today to celebrate my birthday!  I told them not to do a thing today because we got to take several trips this summer and that was plenty for me.  And now that the vacation bills have rolled in…ouch…but worth it!  So I told them not to spend any money, as I had a birthday-every-day-kind-of-summer.  They still surprised me with this cool idea that  I will show you in pictures….
And this is what I got to do….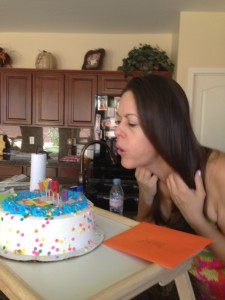 I made sure that I made a good wish.  
I discovered that my girl orchestrated the whole thing, my hubs snuck out this morning to get me an ICE CREAM cake (the best) and my son selected three very unique, thoughtful and funny birthday cards.  Yep, this is my best gift ever.  Love love it!