Manic:  The amount of clutter that our family has accumulated!  So we set out to do some organizing and decluttering this summer. One thing we ended up with was a bunch of cords.  Ugh!
Managed:  Heard about a smart new product called Cord Controller and it has made a difference in my home.  I love that the brains behind the brand is a local Fountain Hills woman because managedmoms.com loves to celebrate female entrepreneurs, especially when they are local gals.  So read on to check out how Cord Controller works and get organized with us now that school is starting again. It feels great to do so!
Fountain Hills inventor Karen Mask created Cord Controller which is a clever patented adjustable fabric sleeve that secures and organizes cords of all sizes — from industrial electrical cords to tiny iPhone cords.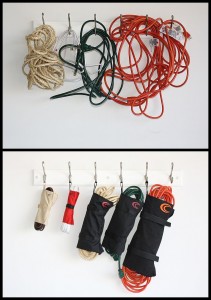 As my family and I worked through our mountains of clutter, we saw all our cords of all sizes that were a tangled mess, so it was great to use Karen's Cord Controller to solve that problem.
I like the box it comes in because the simple instructions are displayed on the back of the box.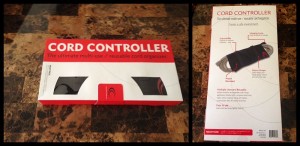 I also like the contents inside.  With Cord Controller Multipack, you get:  one x-small pack that is perfect for smart phone cords, one small pack, one medium, one large and one extra large which is perfect for those heavy extension cords that are stored in the garage for annual holiday lights.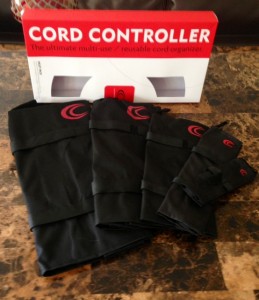 As you can see, we had one drawer that was in desperate need of a makeover.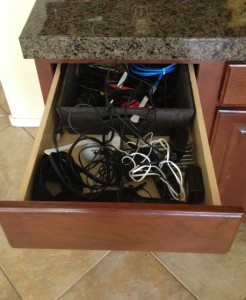 Cords were everywhere and were an eyesore every time I opened that drawer to look for yet another phone charger or extension cord. Having the clever Cord Controller on hand encouraged me to finally tackle that ignored drawer and the exercise also proved to be a good one because several of those cords were completely outdated and needed to be discarded.  It is amazing how quickly technology changes! Once I narrowed down the mess of cords to the ones that are current, it was so simple and quick to secure the good ones in the handy Cord Controller.  Just look at how fantastic the after picture looks!  It feels great to get this drawer tackled and it encourages me to take my organization projects one step at a time.  With Cord Controller, I didn't feel overwhelmed doing this project because I knew that I had a simple solution to those cords that were glaring at me and they were so easy to secure and store with the Cord Controller.  I really do love this!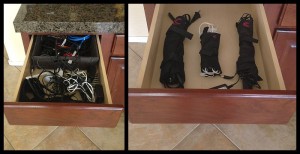 And for those large cords that were strung about in my garage, take a look at how much better this one is stored in Cord Controller.  I love that Cord Controller comes with a handy hanging loop for easy and attractive storage.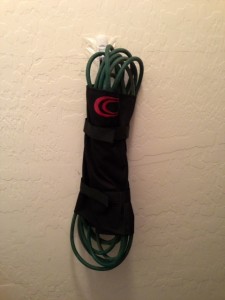 So now that our downstairs is happily organized, I think I will buy more Cord Controllers for our upstairs clutter (it never ends!), too.
What I didn't think of is how much safer I have made our home now.  Karen tells me that the Consumer Product Safety Commission reports 4,000 injuries a year occur with electrical cords. Approximately half of those injuries involve fractures, lacerations, contusions, or sprains from people tripping over extension cords. What's more, the Consumer Product Protection Commission also reports that approximately 3,300 residential fires originate from extension cords every year – each year killing 50 people and injuring 270.  I guess getting rid of clutter is safer, especially when I think of those hoarding reality TV shows.
The Cord Controller is sold individually in five different sizes or choose the MultiPack, like I did, which sells for $29.99 at Amazon or the 5-Pack for $19.99 at Amazon.com (keywords "Cord Controller Organizer") with 5 x-small Cord Controllers each in a different color, too.  So they're perfect to use every day for cell phone chargers, and also you can color code them for every member of your family (pink for me; blue for my husband, red for my kids.)  It is also sold at Artie's Ace Hardware on Tatum & Thunderbird and at Ace Hardware at Via Linda & 90th Street.  For complete pricing and more information check out the Cord Controller website and happy organizing!
This is a sponsored post by Cord Controller.  Compensation and product were received to test it out and all opinions about how much I love the Cord Controller are 100% my own.