Last week was Fall Break for my kids.  Some folks, who live outside of Arizona, have asked me what the heck Fall Break is and I answer with the fact that my kids start school on August 5th.  With such an early school year start date and with the absence of snow days (thank goodness), here in sunny Phoenix, our kids get a week off in October for Fall Break and a week off in March for Spring Break.  It was a much needed break!  Since the school year kicked off in August, both of my kids have taken on a mountain of activities that include travel hockey, high school golf, honors classes, student council, broadcast club, show choir, dance and more.  Plus after recovering from a sprained ankle and a virus that hubs and I shared, we were more than ready for a break.
Hubs took our boy to the big UT vs OU game in Dallas and they had a big time, especially since the Horns won!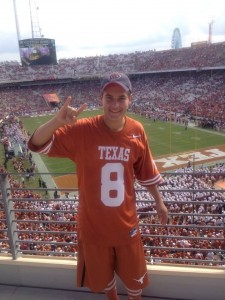 So since my girl and I stayed behind, we decided to have a little fun ourselves.  Once the weekend hit and I was done with my busy work week, we ventured out and hotel hopped for three days in a row.  It was very fun and it gives me the opportunity to review three different properties for you to consider when you want to take a staycation or have friends or family coming to town that are looking for a place to stay.
We chose three very different properties to pitch our tent during our three day hotel hop.  Our big splurge was the Ritz Carlton, then we headed over to the new Hotel Palomar in downtown Phoenix and we ended our fun at the Hyatt Regency Gainey Ranch Resort.  Here are pics from our adventure and our review of each place…
The Ritz Carlton is a luxury hotel in a great location in the Biltmore area of Phoenix.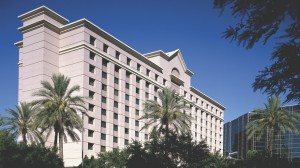 I was able to splurge because with our American Express card we were able to take advantage of a promotion that gave us the room, two dinners and two breakfast entrees all for around $300.  The food is amazing at the Ritz.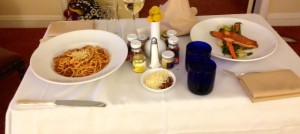 I highly recommend the salmon if you ever dine there.  My daughter's spaghetti was yummy, too.  And the breakfast was just as tasty the next morning with a delicious breakfast burrito for me and hot cocoa for my girl.   Yes, we like to eat when we vacation, so the fare at the Ritz was a real treat.  We opted for room service and the property restaurant, called Bistro 24, looked very inviting, although not to my tween daughter who thinks room service is the best invention ever.  I so agree!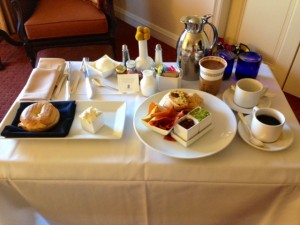 We never made it out to the pool, but after I saw this picture, from the hotel's website, I wish that we would have…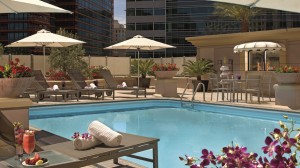 We decided to save our pool time for the resort that we would hit on day #3.  We wanted to take advantage of the cool location of the Ritz, so we went to the AMC dine in movies that is just a 5 minute (or less) walk from the hotel to see the cool Gravity movie with Sandra Bullock and George Clooney.  If you haven't gone to a dine in movie, I recommend it.  I was able to have wine brought to my seat and my girl enjoyed a smoothie as you can see in our photo, that is a little dark since we were in the theatre…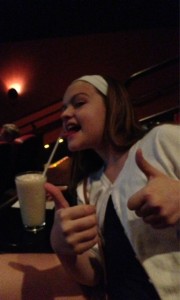 After our movie, we enjoyed going back to our nice room with the view of the Biltmore with the Camelback Mountain backdrop.  It was perfect and the next morning we walked through the underground walkway to shop and eat at the Biltmore.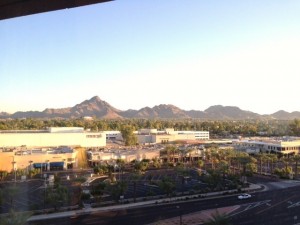 On our way, we got to see a bride and groom posing for pictures.  They were having their reception at the Ritz.  My girl loved that!  After we left the Biltmore with shopping bags and full bellies from the yummy Zinburger restaurant, we checked out and ventured over to the very cool Hotel Palomar, where we were treated to a super cool room by a good friend of ours who was having a big grand opening of his new store called Lawless Denim (I will be posting about that very cool place in the next couple of days).
Although this picture is from the Hotel Palomar's website, I would swear this was the room that we stayed in because it looks exactly like our awesome room that we spent night #2 of our hotel hopping staycation….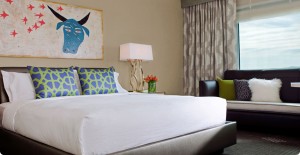 As you can see, we loved our room and posed proudly as we got ready to head out to the super cool CityScape mall where the Hotel Palomar is located.  We were clad in our new clothes from our earlier fun shopping trip at the Biltmore.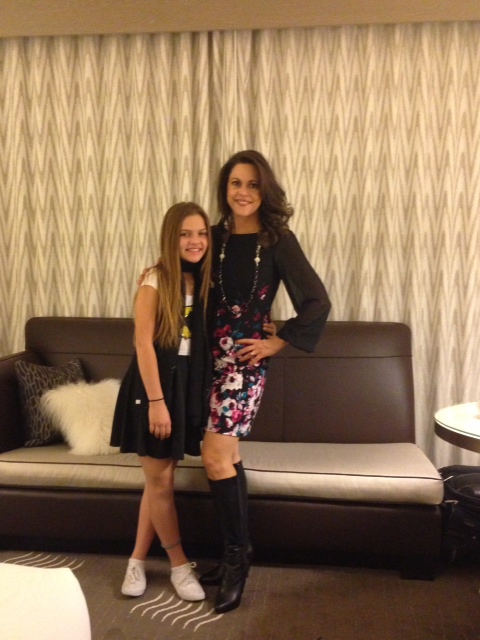 I chose a 60s inspired outfit to match the retro look and feel of the Hotel Palomar as is evident when you step into the funky and fun lobby…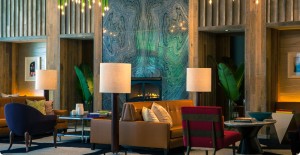 …and the staff were fun and friendly, as you can see here when the front desk clerk challenged my tween in a hula hoop contest right there in the hotel lobby…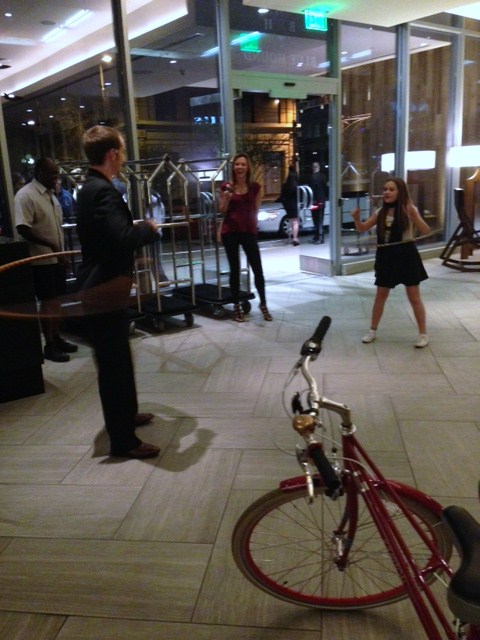 We loved the Hotel Palomar and we highly recommend it as  the perfect downtown Phoenix place to stay.
We were then ready for a different kind of hotel for our last night of hotel hopping, so we went the resort route and checked into the Hyatt Regency Gainey Ranch Resort & Spa in Scottsdale.
This resort didn't disappoint, especially at check-in where free margaritas are given to guests checking in. The prickly pear rita was a nice and tasty surprise.  Here it is pictured on our room's balcony which had a comfy set of table, chairs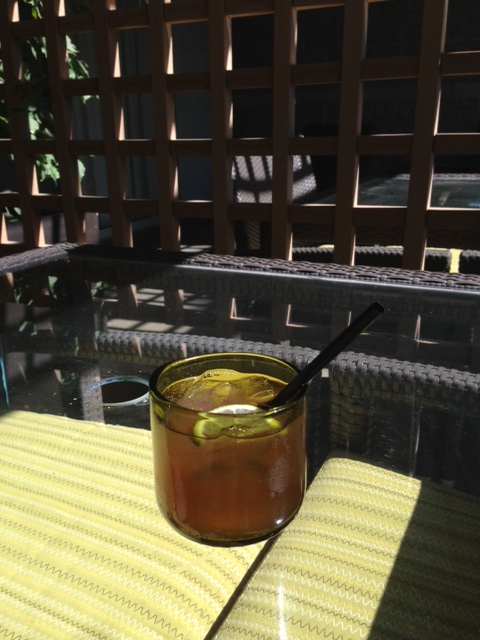 and lounge chairs for desired outside dining.  That evening we went to the resort's restaurant called SWB, A Southwest Bistro and the table side prepared guacamole was scrumptious.  Eating by the fire pit was a nice treat.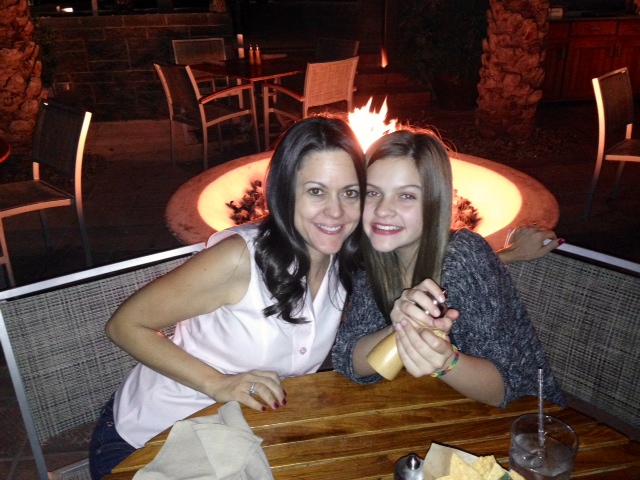 After dinner, my tween asked for her favorite pastime, smores!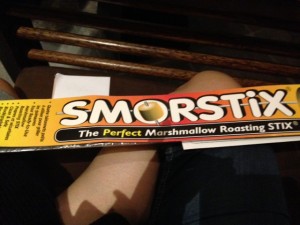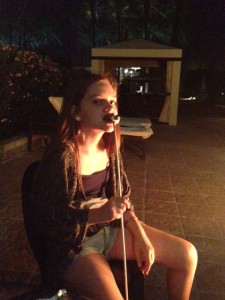 The resort delivered with a delicious kit and I must admit that I had two of those tasty treats myself.  To our delight the fire for marshmallow roasting was located in front of the Gondola boats, which I hadn't realized the resort offered to guests.  So we took a lovely ride and our captain also happened to be an opera singer, so he sang beautiful music to us as we relaxed and rode along the waterway under the stars.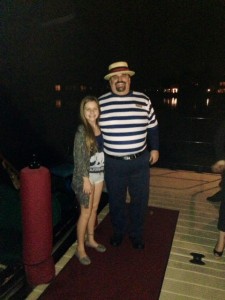 Check out our relaxing boat pictures.  I definitely recommend this….
We saved my daughter's favorite attraction for last and that would be the pools and waterslide that the resort offers.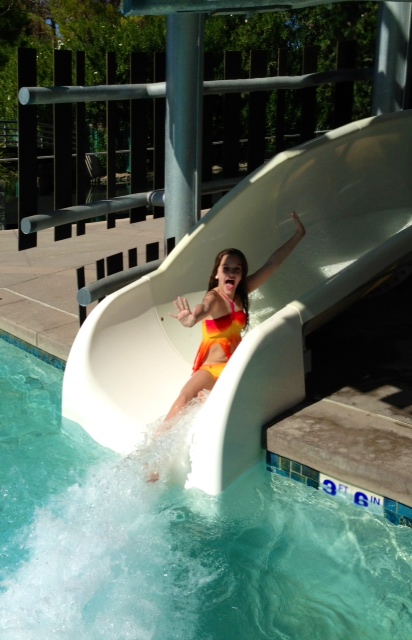 The pools are nice and the slide is high plus the resort offers a sandy beach entry for the kiddos, too.  Very nice indeed.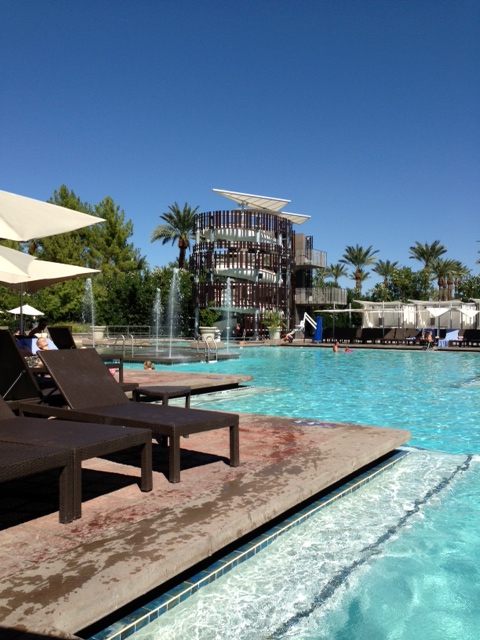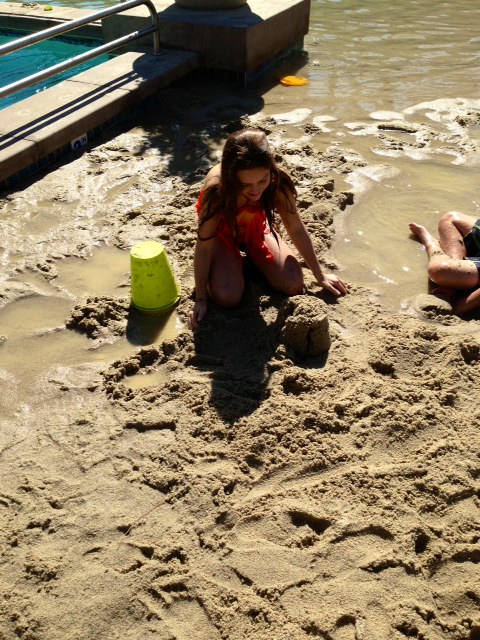 We give our weekend hotel hopping a big thumbs up!  Have you ever hotel hopped?  What is your favorite hotel?  Tell us in the comments section and remember to check this blog under the travel section for a lot more hotel reviews from places like Vegas, Washington DC, Flagstaff and more.  Happy travels….or happy staycation!