Manic:  Figuring out how to wear my fall fashions this time of year here in Phoenix when it is cool in the mornings, hot in the afternoon and then chilly in our October/November evenings.
Managed:  Asked my friend and fashion expert, Heather who owns The Purple Skirt Boutique and is an expert fashion buyer and stylist.  She showed me a few pieces and gave me some good tips on how to stretch our budget beauty dollar by working with common clothing pieces that can be worn multiple ways.  I appreciate that and with her expertise, the outfits look quite nice, too.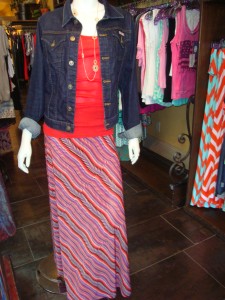 If you missed this piece that ran in my 202 Magazine September article, this is what it looked like and read on for a few tips and the link to read the complete column….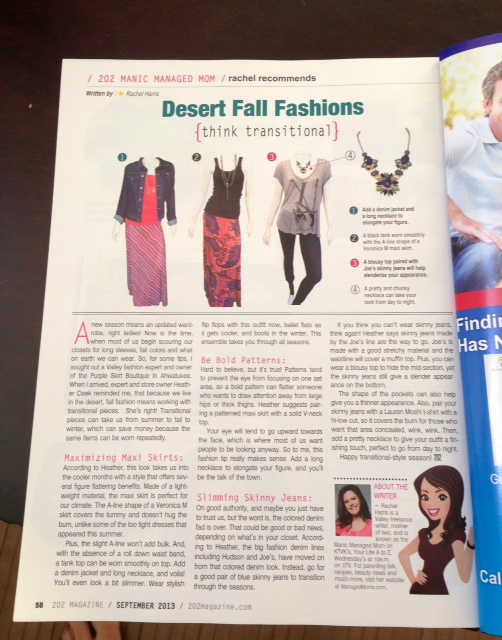 One of Heather's tips that I swear by is the purchase of a good pair of skinny jeans like the Joe's denim jeans shown in the picture below.  I purchased a pair from The Purple Skirt and I wear them constantly.  Not only are they slimming, but they hide a muffin top (which I appreciate after a good dinner out) and they stretch with me as I move.  Plus they are soft and super comfy and easily wash and wear right out of the dryer. These can be worn with flats and then in the cooler months with boots and a blazer. They are very versatile. Since I get a lot of compliments when I wear the belt that is shown in the photo below…I bought that from Kohl's.  I should also mention that the heels are made with built in orthotics (believe it or not) and are sold at Foot Solutions.
You have got to check these jeans out.  For Heather's additional tips and styles, visit this link to go directly to my article in 202 Magazine.  Once there, click the September issue and go to page 58.  My column appears monthly on the last page and I love writing it every month!