Right after I wrote this post this morning and was deciding if I was going to edit it before I published it, I received a touching email from one of my blog subscribers who told me that she enjoys reading about how I balance my family and life in my blog.  She also shared that she had made the decision to take some time off for family matters.  So this is for her and after her sweet email, I decided that this was ready to run, with no edits needed.  Take a look…
Since the last 16 years of my life have kept me quite busy working on roots and wings with one very important boy and one very important girl (who are both not so little anymore), when I saw this phrase this week on Facebook, it made me feel so good about the decisions I have made to step away from the spotlight at times and to decline several big career opportunities that came my way through the years.  The decisions seemed difficult to make at the time, but I always made my choices by prioritizing and when I thought of situations that way, the decisions became a no brainer.  Some of my choices gave me the gift of time, time to spend doing my best to raise my children and to inspire them with my support and by the way I carried myself (and it isn't always easy to set the example we want to set since we parents are mistake-making humans, too!).  But every day I give it my best shot and do the best I can and when I screw up, I make sure that I am accountable and I make sure that my kids see that.  Case in point, when I backed up into my son's car a few months ago (that unfortunate story is here in case you missed it), I apologized to him and I took money out of my freelance business earnings to have it fixed.  Although I hated that this happened, here was my chance to inspire my kid to be accountable through my follow up actions.
So when I saw these words of wisdom by Zig Ziglar on Facebook this week, I  smiled and immediately wanted to share this.  As we go through life, busy as a bee, working towards and sometimes reaching our big goals, this part of life is also true, especially if you have little people watching you.  You may be a parent or an Auntie who is close to your niece and nephew or perhaps a teacher who is truly invested in your students.  Perhaps you are a big boss who truly cares about the success of the team.  I have been so lucky in my life to have had amazing mentors and friends as my supervisors, both in my Southwest Airlines marketing job and at KTVK.  In any event, check this out and know that these are great words to live by….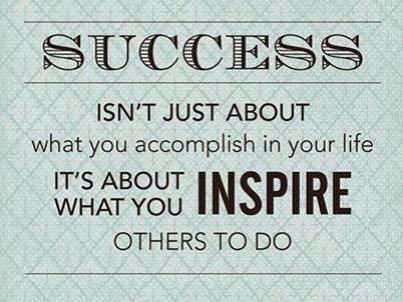 So go out there, have a great weekend and inspire!  Watching those that look up to you grow and then inspire others is one of life's greatest gifts.
Want to share some words of wisdom that touched you?  Email to [email protected] and we will share on our Words of Wisdom weekly Saturday post.