When The Ritz Carlton left Phoenix, I was disappointed.  Having been there for business lunches, high tea and a mother and daughter staycation a few years back, the nice property was a Phoenix staple. Curious about the replacement hotel, The Camby, Autograph Collection, I decided to sneak away all by myself during my daughter's Fall Break.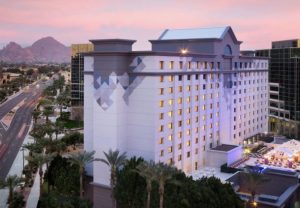 After all, my family was away on different trips that happened to fall during the break.  So what's a mom left behind to do?!  (Of course, truth be told, I was actually looking forward to this accidental me time.) Contact the Camby to set up a one night stay to review the hotel, the room, the spa and the food.  Yes, not a bad assignment.  So what did I think?  Check out my fun 2 minute video review to see the hotel, room, spa, food and more.   Staycation, a referral for out of town guests, a place to ring in the New Year?  See for yourself here…
A few of the services were discounted for this review, but most of it was paid for by me and my dollars were well spent as my opinion about how much I love this place is 100% my very own.