Manic:  Happily confirming that my Thanksgiving Day dinner crowd will consist of ten people.  Bring on Turkey Day!
Managed:  Working smart and planning the bulk of my holiday dinner with a preorder of AJ's Fine Foods Grocery Store Thanksgiving prep meal kit.  I recommend this tip that allows the host to plan a traditional Thanksgiving meal that is almost homemade. In fact, in the past when I admit to my guests that most of the dinner came from the AJ's meal prep kit, they are surprised because the food is festive and delicious.
Want to know more?  Read on to see how this works.  If you decide to go this route, the folks at AJ's told me to tell customers to book now because the orders are already filling up!
A few years ago, I tried the AJ's Fine Food's holiday dinner pre-order meal plan and it worked well, tasted great and happily fed all.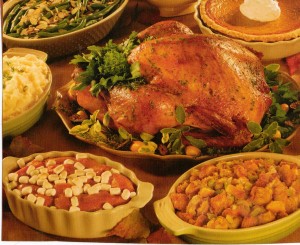 AJ's Fine Foods offers Thanksgiving catering that you prep and serve to your guests.  My favorite part of the AJ's meal is the turkey shaped butter.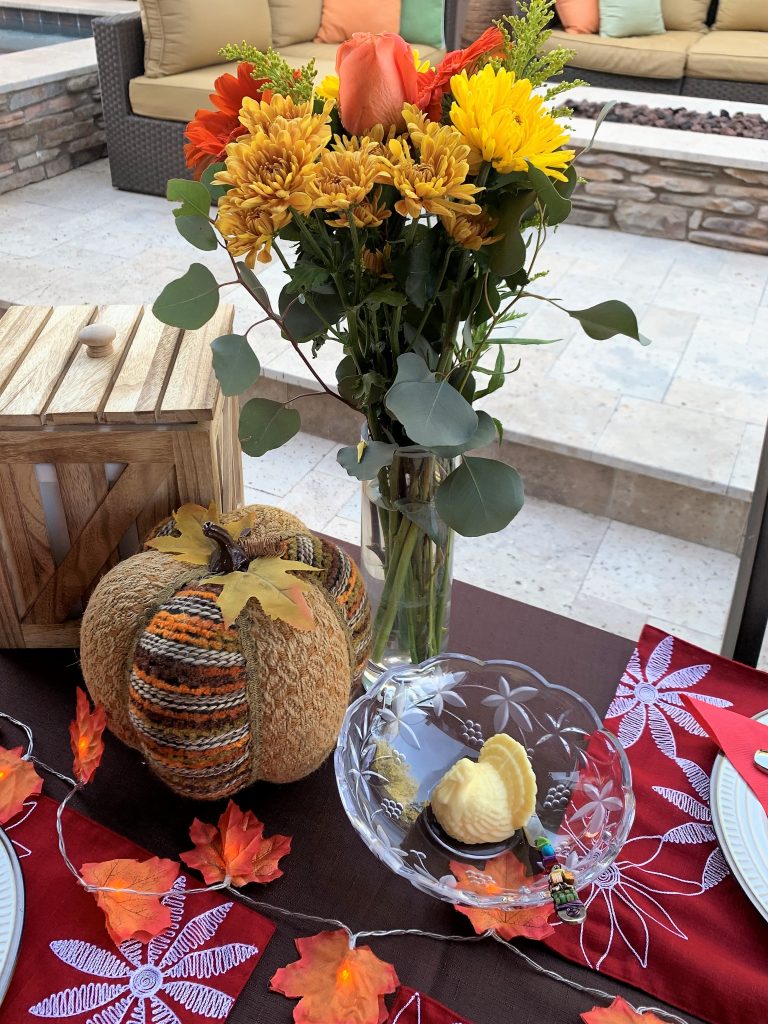 This is a must have on our holiday table.  The seasonal sculpted butter display is the first thing my daughter looks for when she comes home from college for our Thanksgiving feast.  This special touch has become a family tradition.
How It Works:
For $179.99 you get a complete Turkey Day meal that feeds 6 to 8 people.  You pick the kit up from your nearest AJ's Fine Foods.  Take it home, follow the provided prep and reheating instructions and serve.
Here is what the dinner includes:
*16 to 18 lb. roasted turkey (precooked weight)
*3 lbs. herbed dressing
*4 lbs. mashed potatoes
*3 lbs. candied yams with marshmallows
*2 lbs. green beans almandine
*2 quarts gravy
*1 pint cranberry relish
*1 dozen dinner rolls
*cute holiday butter shaped like a turkey
*your choice between an apple or pumpkin pie
You can also order a ham a la carte for $89.99.
Orders must be placed by November 17th.  Although AJ's may run out of certain items before that date, so book your meal kit pick-up now.  For an additional cost, you can add appetizer plates and desserts, too.  Other meat options (at an additional cost) include the AJ's Prime Rib, Filet Mignon Roast, Pork Crown Roast and more.  Other pies offered (at an additional cost) include blackberry, peach, rhubarb and many other flavors.
Why I like this…
*With the extensive grocery list you would need to purchase if you made everything from scratch, the price for this catered meal is reasonable.  And if time versus money is your issue, the time savings here absolutely rocks!
*Order can be picked up the day before or Thanksgiving morning.  Do give yourself time to reheat all the dishes.
*Some prep is still required, as it doesn't come hot and ready to go.  I like this because it still feels like I am making a grand Thanksgiving dinner since I have to start early in the day heating the turkey in the oven and preparing the different side dishes one by one.  Since AJ's does most of the work for me, it is easier than making a complete homemade meal and it tastes just as good.
*The taste is amazing.  Last year I had both family and neighborhood friends join us and no one could believe that it was a holiday meal prep kit.  Everyone commented that it tasted like I had cooked for days.  Thank you, AJ's!
*There was plenty left over for snacking on later.
If you are interested in learning more about the AJ's Thanksgiving meal kit, click here or call (800) 755-7292 or simply go in and order, like I did.
Happy Holiday Season.  Once again, it got here fast.