Strawberry. Pine. The names alone intrigued me to take my next Road Trip with Rach to these neighboring Arizona small towns. I grabbed several gal pals and off we went for our 36-hour adventure to scenic Strawberry/Pine, Arizona. Check out my two Arizona Daily Mix morning show segments! The first one covers Pine, AZ and the second segment covers Strawberry/Pine. The links to all that I showed in my segments are listed below the videos.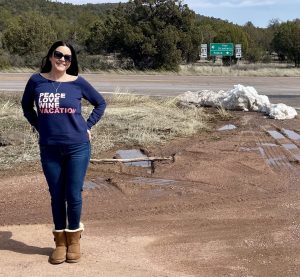 Situated between Camp Verde and Payson, near the base of the Mogollon Rim, visitors can sip, taste, hike, shop and slumber to happily fill a fun stay. Both Strawberry and Pine are small in size, but packed with plenty to do. Each houses welcoming locals who happily recommend where to dine and what to do, while also warning visiting city slickers to watch for the "big green eyes" of crossing elk on the main Highway 87 that runs through both towns. Tall pines, dense woods and big skies give visitors pretty photo ops, fresh air hiking paths and a quick 2-hour getaway from big city Phoenix.
Come in the dead of winter to experience snow and the town's downtime (what we did) or head up to the area during the busier seasons that are filled with local festivals and cooler temps. I plan to return for holiday shopping next fall. And I plan to come again after that. My morning show segments above show my group tasting, sipping, shopping and experiencing the unique and enjoyable offerings of Strawberry/Pine during our short stay. And back to the unique names of each town…Strawberry got its name due to the massive amounts of scrumptious strawberries that grow in the area and Pine's namesake comes from the Ponderosa pine forest. Obvious namesakes, but still neat names that make the areas inviting right off the bat!
Here are the places I showed in my morning show video…
Where I stayed & had the best coffee and tea in Pine:
The Lodge at 5600 is a brand new unique boutique resort property that I fell in love with the minute I checked in! Look for my article later this week all about this new relaxing getaway spot that sports the best views of the Mogollon Rim. Be sure to stop at the lodge's yummy locally owned coffee shop called Elk Brew Coffee Company, too!
Where I stayed and enjoyed a delicious cup of Joe in Strawberry:
The Strawberry Inn boasts 30 slumber options with a charming eight room hotel, four nice cabins, 14 tiny cozy cottages and four cool airstreams, too! Be sure to visit the property's inviting Windmill Coffee shop that serves delicious brew right out of fun windmill building.
Where I dined in Strawberry and Pine:
Early Bird Cafe for the best breakfast burrito and chocolate pumpkin muffin I have ever sunk my teeth into!
Pinewood Tavern for lunch and dinner and don't miss the bacon & eggs deviled eggs. Double yum on those! All the food is simple, made from scratch and delish! No wonder this place is a favorite among the locals.
PIEbar for breakfast and treats. With sweet or savory empanadas and mouthwatering pies, this place is not to be missed!
Mamajoe's Italian Grill had the best chicken parmesan. Delish! This wasn't included in my video, but I do recommend this place for good pasta and an accompanying ice cold beer or glass of wine.
Yummy find:
The Honey Stand for local honey that is made all over the state. This family owned shop also offers locally made jams, salsa, snacks and more. Ask for a taste of the honey and for advice for which variety to buy for allergies in the area where you reside.
Where I went wine & beer tasting:
Pine Provisions Bottle Shop & Tasting Room offered tasty local Vino wine tasting in addition to a few overseas wine flavors as well. Also a bakery, so don't miss the cheesecake and the nice variety of pasta and savory sauces, too.
THAT Brewery & Pub Pine gives patrons nice big pours with the brew tasting menu. Local beers and local grub go hand and hand at this place that is also loved by the locals.
Must Visit Local Attractions:
Pine Creek Canyon Lavender Farm for a beautiful farm experience that offers cooking classes and a charming Farm Shop that sells everything lavender. Hand harvested by the local couple who nurture everything about this farm, try the Lavender hot cocoa or fill your bag with candles, beauty products and more all made with the good purple stuff. I left with a jar of lavender margarita mix that I can't wait to make. Cheers!
Strawberry School House is a must see historical landmark. Built in 1885 and up and running until 1916, this delightful relic has been fully restored to resemble it's intriguing original state taking visitors of all ages back in time. The school house is listed on the Register of Historic Places. Take the school aged kids to this one!
Outdoor Stuff:
Tonto Natural Bridge – Unfortunately, due to inclement weather I didn't get further than the cool sign, but I am already making plans to go back to hike this gorgeous state park. With four trails and one ending at the beautiful Waterfall Cave, I can't wait to get back to the area so I can experience firsthand what looks like a stunning way to get some exercise and great photos!
Green Valley Park is shown in my segment in the photo that shows the boys climbing the huge whispering willow tree. I'm told that folks come from all over to see these grand trees. They also come to this park to fish, kayak, bird watch and more. It's on my list, too!
Where I shopped:
Pine Strawberry Farmers Market offers locally grown organic food, fun gifts, clothing and unique merchandise. Like many of the shops in the mountain town, the store is housed in a beautiful historic home.
Tymeless Antiques & Treasures is the place to visit if you love antique shopping. With an abundance of colorful rooms packed with stuff from years gone by, there is something for everyone. Treasures from long ago abound and the store also offers newer items like fragrant handmade soaps and clothing. Fun to visit for sure!
Fancy Finds is my new favorite gift unique boutique because I love the beautiful blue house it sits in and I found several favorite finds in this store! Stylish clothing, home decor, one-of-a-kind gift ideas and lots more had me filling my shopping bag with great items. I plan to return in November when the store turns into a holiday winter wonderland with all kinds of seasonal treasures!
I had an absolute blast visiting the Pine Strawberry area. Locals showed us such nice hospitality and the gentle roaming elk were a sight to see, too. I didn't get to hike due to the weather so I plan to return to do so soon. I also missed trying a restaurant that came highly recommended to me…the pizza at Old Country Inn.
What are your faves in these delightful rim country towns? Share in the comments section because I plan to return sooner than later! The mountains are calling!