At one time a few years ago, our family had six cats between us! Our adult son and his fiancee at the time had two kitties and we had four felines.
Since college kids and young adults move a lot during those years, we always lent a hand to help when it was time to move the furry family members, which can be traumatic for pets. So, when this guest writer asked to share moving tips when it comes to pets, I knew this would be a good fit for us and for a lot of my blog readers. Take a look at these helpful ideas when making a move with your fur babies…
Today's guest writer says:
Moving can be an exhausting, challenging experience; making sure your furry, feathered, and scaly family members join the big move can add both logistical and emotional strain. Relocating with pets requires much more than simply piling them into a car – it requires meticulous planning to ensure their safe arrival at their new destination. But with proper resources at hand, it's certainly possible for a successful move, both cross country or to a closer new address for both you and your animal family members.
Moving with Dogs
When it comes to moving with your pup, the top priority should always be their comfort and safety. Research any laws or regulations concerning pet transport both at their old city and new one before embarking on this journey. Make sure that all necessary documents and vaccinations for your pet are current. Bring along plenty of treats, toys, water and food and learn about airline policies regarding service animals if traveling with dogs. Make sure the crate you use for transportation fits the size and needs of your pet, and add their favorite things like blankets or stuffed animals so they feel more at home during their journey. Furthermore, plan for multiple potty breaks along the way if necessary – consider taking longer routes if that will help prevent anxiety in your pup. 
Moving with Cats
Relocating felines requires careful consideration, so making an appointment with the vet in your city and making sure all required documents, vaccinations and medications are current is key to their comfort during travel.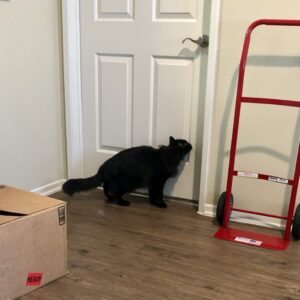 When flying, make sure you check which airline carriers accept cats – some airlines may require special crates or health declaration forms prior to travel. Likewise when transporting your feline friend, ensure you bring plenty of toys and treats along with familiar furniture such as scratching posts or beds.
Cats can be more difficult to move so see your vet for specific advice about additional ideas for easing your cat's anxiety when making the big move. 
Moving with Fish
To ensure that your fish make it safely across, it is crucial to plan ahead and take measures to ensure their well being during transport. Research the laws or regulations governing pet transport between both cities, take note of the sections of any temperature-sensitive species such as fish. Find out how long a flight will last as well as which tank type the airline requires – making sure it contains water from home will help adjusting once arriving at their new destination.
Moving with Reptiles
Reptiles require special consideration when moving them as they are particularly susceptible to temperature and humidity fluctuations. Be sure to secure all required permits as some states require that you submit an application ahead of time. Research climate and temperature conditions at their new destination to select an ideal transport container – make sure it includes ventilation as well as any heating elements if applicable.
Communicate With Your Cross Country Moving Company
When hiring a cross country moving company, it is vitally important that you communicate your extra needs to them. Be sure that they are aware of any special considerations when transporting your pets, such as needing extra stops along the route or temperature controlled containers. Also make sure that every pet and their individual needs are fully communicated so as to ensure safe and comfortable transit for everyone involved. Finally, keep an open line of communication between you and the moving team throughout their entire journey.
Relocating long distances with pets can be a challenging experience, but it need not be. By taking necessary precautions and communicating your needs to your cross country moving company, you can ensure both yourself and your animals will have a less stressful  trip.
This helpful parenting article is a collaborative post and may contain affiliate links.