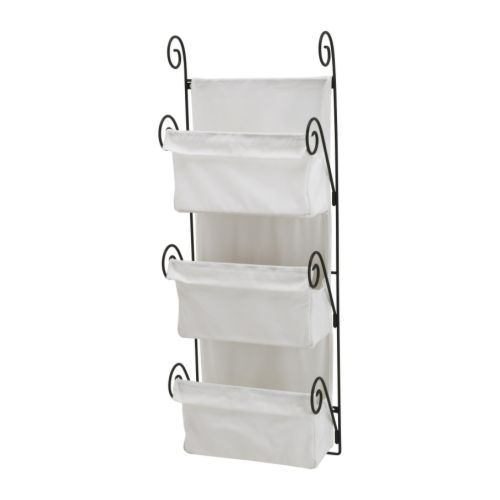 Since the kids go back to school tomorrow after the 3-day MLK weekend, it finally feels like the holidays are over.  So my house is slowly, but surely, being put back in order. 
One item I found a few months ago that continues to cut our clutter is a cool tool called the Allamalla Wall Basket.  It sells for $19.99 at IKEA.  We use it to hold the endless amount of important papers that come home from school, practice, rehearsals and our mailbox.
I wanted to snap a photo of the one we have that hangs in our laundry room with everyone's papers neatly stashed, but of course the light in that room burned out tonight.  And of course we don't have the right kind of long lamp on hand to replace the bulb.  So I'll be heading to the hardware store tomorrow. 
Just today, my daughter was able to quickly find her scripts on our way out the door to her rehearsal.  She knew to check the bottom pocket in our wall basket because that is where we stash her stuff.  My son has homework and his church Confirmation papers filling his wall basket pouch.  His is the middle one and my mama stuff goes in the top basket. 
I can't tell you what a difference it has made to have a place to place the papers.  No more lost field trip permission slips or missing homework assignments.   And I think the black and white style looks nice.
I highly recommend this great get organized tool.  But do something that I failed to do if you hang one in your laundry room — keep an extra over head light bulb on hand so you can avoid looking for those important papers without having to first find a flashlight!  Happy organizing everyone!