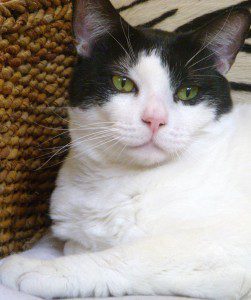 This is my favorite picture of Tucker.  I think he is so handsome and he keeps himself well-groomed.  I'm always proud to tell folks that he came from the pound three years ago.  He is one handsome humane society find.  I definitely recommend adopting your next pet from your local humane society.
Tucker (named by my son) is a great cat.  No accidents, ever.  He and his adopted brother litter-trained instantly.  He is great with kids.  He is good with our other adopted boy, our orange cat, Stanley, that appears often in my weekly pet pic.  And if you are sick, he will stay with you until the virus has vanished.  A few months ago, my friend Julie noticed that Tucker stayed by her son's side until it was time to go.  We were all having dinner and her little boy got suddenly sick, so he laid down by her boy and Mr. Tucker did not leave his side until her little boy got up to go home.
And he is funny.  I've posted this picture before, but it's worth putting it here, too.  I mean how many cats do you know that do daily yoga poses?!  And he sits like this every day!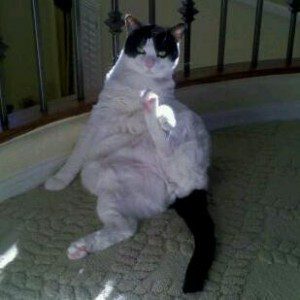 Oh and I should mention, our Tucker has lost weight since this photo was taken.  I knew he was getting fat, so we put him on a vet-recommended diet and he is looking trimmer these days!
So the next time you are considering adopting a pet, look no further than your local humane society.  Just look at this handsome ham that we found!  He is loved, he knows he's loved and he gives us love right back. 
Have a wonderful Sunday everyone 🙂