Manic:  No time to do my or my daughter's hair!
Managed:  Asked expert hair stylist and owner of Backstage Salon & Spa, Angelic, how to create the perfect pony fast!  She told us that it is important to your hair's health to buy the right kind of pony tail holders. 
Here are her tips to create a pretty pony in under a minute:
1.  Start with a fine-tooth comb, not a brush.  A comb will help to get all those annoying stray hairs to stay in the pony.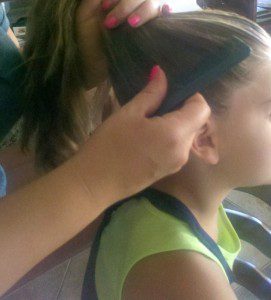 2.  Smooth with a good pommade like the Paul Mitchell brand.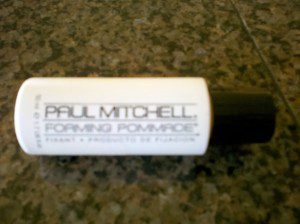 Just dab a few drops in your palm, rub your hands together and glide product over the pulled back hair.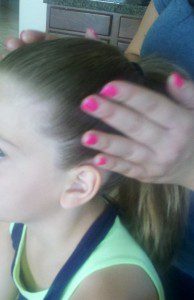 This will add a bit of shine and will tame flyaways that tend to pop out of ponytails, which is always annoying. 
3.  Next use the right rubber band because that makes all the difference.   Check out this picture of three different types of rubber bands.  Can you name which kind is the best kind for your hair?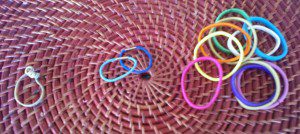 What did you guess?  Here is the answer:
  4.  Next tease the pony using the comb or by scrunching it with your hands, as Angelic demonstrates in this picture.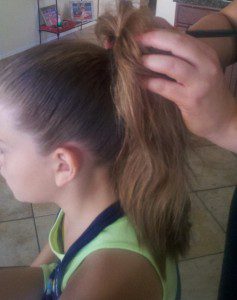 5.  And now you've got a beautiful smooth, but full, pony tail.  Pretty pony tails are perfect for those sizzling summer days.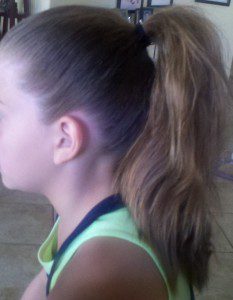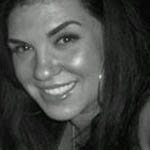 Angelic Papadakis, Hair Stylist & Owner of Backstage Salon & Spa.
Angelic has been a stylist in the Valley of the Sun for more than 15 years.  Specializing in precision cuts, Angelic has  taken her passion for hair and transformed it into her salon, Backstage Salon & Spa in Tempe, Arizona.
Read more about Angelic on our team bio page
What are your favorite pony tail tricks?  Tell us here in the comments section.