Manic:  My kids already go back to school on August 8th!  That is coming right up!
Managed:  Enjoy our last week of summer break and brainstorm back-to-school healthy snack ideas with my kids.
Yes, that's right, this year I'm asking for input from my kiddos.  As much as they would like a soda, chips and cookies in their lunch box, asking them for healthy suggestions gives them ownership of the ideas and gives me better odds that they will actually eat what's in the lunch box!  Let's face it, we are not there to see what they ingest and what they discard!
So here is what we came up with:
*Carrot sticks because they are crunchy and a lot of kids actually like carrots if parents simply put them out.  Add a little side of Ranch dressing if that helps.
*Popcorn is a great whole grain snack.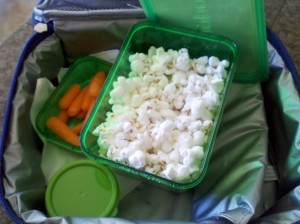 *Apple wedges with peanut butter.
*Peanut butter, honey and banana slices on 100% whole wheat bread sandwiches like my mom used to make for me.
*Good Health Natural Foods (http://www.goodhealthnaturalfoods.com/) all natural snack line with great snack-sized portions that include: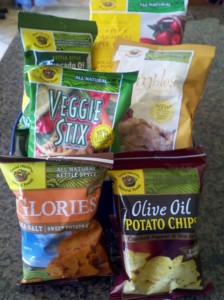 Humbles Baked Hummus Chips (70% less fat than potato chips); Olive Oil Potato Chips (o grams trans fats); Glories Sea Salt Sweet Potato Chips (all natural kettle-style with unique sweet potato flavor); Veggie Stix (taste like French fries, but are crunchy like a chip and contain no hydrogenated oil and zero trans fat) and my favorite the Avocado Oil Potato Chips, which are kettle cooked in all natural pure avocado oil which is high in antioxidants and monounsaturated fats, which are the good fats!  They even have apple chips.  I love this line and so do my kids!
*Cheese sticks or cheese squares with whole grain crackers
*Blueberries or strawberries.  Pack your child's favorite berries instead of sugary desserts in the lunch box.
*If you live in the Phoenix area, Pomegranate Cafe (http://www.pomegranatecafe.com/index.html) has amazing bakery items that my teenage son snacks on.  Dark chocolate chip oatmeal cookies that are sweetened with apple sauce instead of sugar.  They also make a healthy banana chocolate chip muffin that is his #1 favorite snack in the world!  So, I'll pack one of those for a healthy mid-day snack because my growing teenager needs constant fuel breaks!
And my last tip is to avoid taking them to the grocery store with you because once they see the unhealthy snacks packaged so nicely in bright boxes and bags, they will beg for that and forget the good stuff you agreed on!
What are your healthy back-to-school snack ides?  Share here in the comments section and have a great school year everyone!