Manic:  Your family wants to watch a good movie together, but it isn't always easy to find a film that is clean, has a good message, is entertaining and one that the entire family can agree on.
Managed:  Problem solved!  See Soul Surfer!  Our family watched it this summer and we saw it again on our On Demand movie channel the other night.  I was reminded that this is a movie that I've got to tell families about, plus it is a true story that is very inspirational to boot.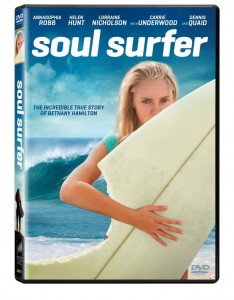 If you remember the headlines a few years ago about the teenage competitive surfer who lost her arm to a shark, then you already know what this movie is about.  But you may not know that the movie's main message is one that will benefit your kids, plus your entire family will enjoy the plot, the beautiful scenery and the superb acting. 
Dennis Quaid and Helen Hunt play the very supportive parents of Bethany (played by AnnaSophia Robb), the teenage girl who survived a shark attack, but lost her arm.  Carrie Underwood also stars in this film and she plays Bethany's church leader with the perfect combination of compassion and strength as Bethany's spiritual advisor and friend.
Without giving too much away, I will say that watching the journey that this courageous young girl embarks on as she adjusts to life with one arm is uplifting.  And seeing her work her way back to her surfboard and subsequent competitions is awesome to see…and very cool to watch with your kids!
It is rated PG for the intense shark attack scene, so be warned about that.  My tween and teen were not scared by that scene at all, but you know your own kids, so you may want to watch that part of the movie before you decide to show your kids.  Like my kiddos, the scene didn't bother me and I thought it was well-done, and not frightening like Jaws, but I do need to warn you about that part of the film.
So be sure to catch Soul Surfer now that it is out on DVD and on the pay channels.  Too bad we don't have more movies like this one when we are searching for a film that the entire family can appreciate.   This manic managed mom gives Soul Surfer a big thumbs up!