Manic:  Life these days that has us running around all day long with no time to touch up our lips!
Managed:  Getting advice from a pro on the right product and right tips for your lips.  Professional and celebrity makeup artist Karen Hall has the answer for lovely lips that last!
Karen says: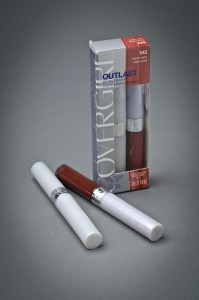 If there is one thing I don't want to be touching up all day long, it's my lips…..I say get them perfect, then only gloss the rest of the day!   Some of you feel that those stay on lipsticks are drying, but try my method, and see if it works for you.  The brand I prefer is Cover Girl Outlast Lip Color.  It comes as a double pack, the color and the gloss.   Make sure your lips are clean and dry, put a dot of your chosen color on the center of your top and bottom lip.  Blend it out with your finger, thinned out to almost a stain….This is the key!
Most women put it on right from the tube, like lipstick, and it's way too thick.  I prefer a lip liner, so I use a tiny lip liner brush to apply a little more of the color, or a bit darker shade along the edges, blending it towards the center.  Add the gloss and you are set for the day, and into the night (it will even stay on through you salad)!
If you have a favorite regular lipstick or lip liner, you can apply it over the stay on, and even if it wears off your lips will still have a beautiful color underneath!
About Karen:
Karen Hall, Celebrity Makeup Artist

Karen Hall has dolled up the likes of Paula Abdul, Faith Hill, Conan and many more world-wide celebs that come to Phoenix to perform or make personal appearances.  Karen is called in to make the stars look amazing and many of these celebs end up asking Karen what her own personal secret is because she looks 30 years younger than her age…which she will tell you is over 60!  Hard to believe, isn't it?!   Stay tuned for another healthy and easy beauty tip from Karen next week.

Read more about Karen on our team bio page