Manic:  Your kids outgrowing their rooms and you are on a tight budget!
Managed:  Asked my talented interior design-gifted friend to share how she transformed her daughter's room for a really reasonable price.  Check out her incredible design on a dime decor ideas!
Bridget says:
Here are some photos of what I did to create a zebra print room for my tween daughter.
*First I used duct tape from Michaels Arts & Crafts that I purchased for 40% off.
It is $4.49 at Michaels and $4.99 at Hobby Lobby.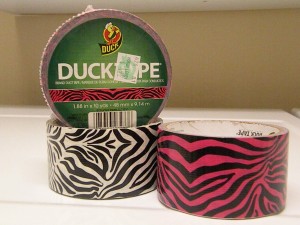 *I used the hot pink Zebra Print for the border of the room.  I used the white and black Zebra Print for the glass dish to hold knick knacks and I used it for the desk top, drawers and the mirror.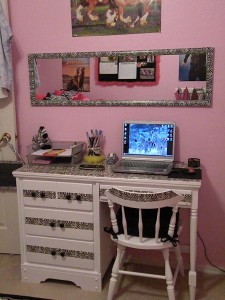 *Then I put new black knobs on the desk.  They were $2.99 a piece at Hobby Lobby.  We made our own lamp shade (bought a black shade and put fur on it).  The mirror was only $5 at Walmart, and I got the desk at a garage sale for $30.  I also purchased one pint of white satin paint, three rolls of duct tape and away I went. Then I accessorized the room with a chair cushion that cost me $9 at Hobby Lobby.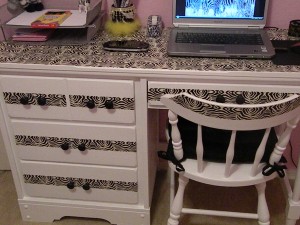 *Next I took a plain bulletin board and put black felt on it and hot pink fur…that is really fun!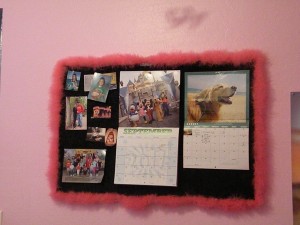 *I added a very nice 4 x 6 zebra rug from Amazon that cost me $30 and I got free shipping.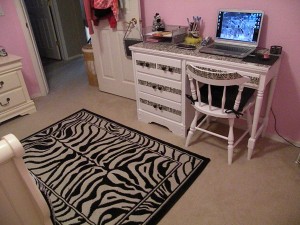 The room is now done, and if she changes her mind in a year or so, I can easily remove the tape and do it in another design. This is my design on a dime look!
What fun design on a dime ideas do you have?  Share here in the comments section.  And a special thanks to our guest writer, Bridget.  Great stuff on a good budget!
Bridget Owens, owner of
D.O.A. (Designing, Organizing & Arranging) Interiors
 is a talented home decor expert and a professional organizer.  In addition to finding money-saving deals on home decor products, she also teaches her clients how to incorporate their current items that they have on hand to stretch the budget.  Her get organized ideas are structured to work well for the entire family, too.  For more about Bridget, see our
managedmoms.com team page.