Woo Hoo!  This week's prize rocks!  A big thank you to T-fal for giving managedmoms.com a brand new ActiFry to give away!  It is a $250 cookware item from T-fal called the ActiFry, but it doesn't fry foods.  It actually makes french fries, appetizers, meals and more in a healthier way because it steams and cooks and uses a lot less oil of your choice.  I love mine and I was super excited when T-fal offered one to us for the Freebie Friday!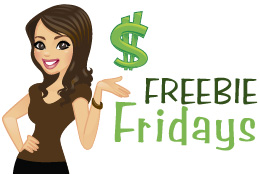 So who is this week's lucky Freebie Friday winner????
The winner is…..
Tammy Wortman from Queen Creek, AZ!!
Congratulations Tammy!
You won the T-fal ActiFry!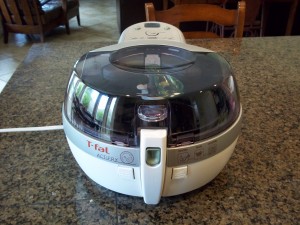 And what is next week's terrific prize???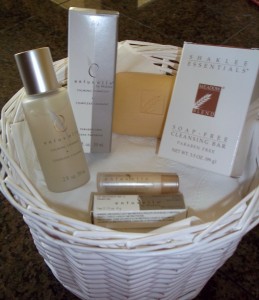 A beautiful collection of Shaklee beauty items.  I especially like the Shaklee Essentials Soap-Free Meadow Blend Cleansing Bar that is made with oatmeal, Vitamin E and wheat germ oil.  Paraben free, this family-friendly soap is also PH balanced.  This soap is perfect for my daughter's sensitive Eczema prone skin and for my own super delicate face.  Also included is the Enfuselle Calming Complex that decreases the appearance of fine lines and wrinkles while moisturizing skin with it's hypoallergenic ingredients.  And Shaklee also threw in the Enfuselle Lip Treatment SPF 15 which is also paraben free for soft and healthy lips.  This is an-Oprah approved line that I also highly recommend!  For more information about all of the Shaklee products and to order, visit www.lascruces.myshaklee.com.
Good luck everyone!
HOW TO ENTER NEXT WEEK'S FREEBIE FRIDAY…
Do you want a chance to be in the Freebie Friday drawing for next week?  If you are a subscriber, you are automatically entered!
If you are not a subscriber, subscribe now at www.managedmoms.com.  Simply subscribe to the website by filling out the area in the right hand column that says "subscribe to managedmoms.com."  Being a subscriber means that you simply get a notification email each time we run a recipe, article, beauty tip, coupon and more.  We don't share your email address with anyone and you are automatically entered into the weekly Freebie Friday drawing for your chance to win a cool prize every Friday.  It is that easy!
To enter without subscribing, simply fill out an entry form at:  https://managedmoms.com/freebie-friday-entry-page/