Pink Hair Shows We Care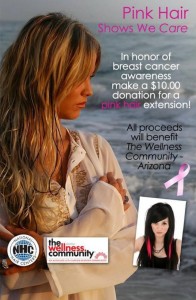 Since we are deep into October, it seems like everywhere we turn, we see pink. Due to the sheer numbers, we all know someone that has been diagnosed with breast cancer.  Fortunately, thanks to the research and attention that has been dedicated to this disease, we are now seeing many of our friends, sisters, mothers, aunts and grandmothers as courageous survivors. While we look for ways to help raise awareness for breast cancer, it is time to celebrate the many men and women that have survived and to honor those we have lost.
Throughout the month of October, National Hair Centers (NHC), the experts in hair loss restoration, will be holding a fundraiser called Pink Hair Shows We Care.
To show your support, stop by NHC located at 5828 N. Seventh St. just south of Bethany Home Road and one of the stylists will be glad to help you with a pink extension. You can also stop by Luci's Healthy Marketplace at 16th Street and Bethany Home Road on Saturday, Oct. 29 from 9 a.m. to 1 p.m.
Pink hair extensions are $10 and they are removable and reusable.  All proceeds from Pink Hair Shows We Care will benefit The Wellness Community – Arizona providing FREE cancer support and education programs to those touched by cancer.
For more information, contact National Hair Centers at (602) 230-0000 or visit www.nationalhair.com. To learn more about The Wellness Community visit www.twccaz.org.