We start the week with a wonderful healthy hair tip from managedmoms.com team writer and professional and celebrity makeup artist, Karen Hall.  Her hair remedy is all natural and includes ingredients that you probably already have on hand in your kitchen!
Karen says:
Beautiful Hair Egg and Honey Pre Poo Method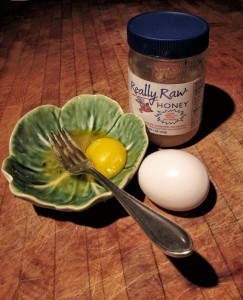 This simple kitchen remedy has really changed the quality of my hair for the better!  The egg contains proteins, vitamins and essential fatty acids, and the honey is a natural humectant that helps to hold moisture in the hair.  It is a balance of these elements that keeps hair healthy.
Here is how to do it:
1.  Make up the mixture…in a bowl, whip together with a fork, one or two egg yolks (separate the whites, and save them for a nice egg white omelet), with 1 teaspoon raw honey.
2.  Before you shampoo, rinse your hair well and squeeze out the excess water.  Apply the egg and honey mixture.  You can spread it on right from the bowl with your hands, or put it in a squeeze bottle.  I do it over the tub and just apply it with my hands.  That way the excess in the tub can be easily rinsed away.  Saturate the hair, squeezing out the excess.
3 .  Leave it in anywhere from a few minutes to half an hour.  If you leave it on longer than a few minutes, put a plastic cap on, and then wrap your hair in a towel.
4.  Shampoo it out and condition as usual.  I find that I get good results if I skip the conditioner, after towel drying, and use a leave in conditioner.
My hair has gotten consistently better if I use this pre poo method, and I saw results after only one time!  Once a week is enough to see amazing results….stronger and shiner hair!
About Karen:
Karen Hall, Celebrity Makeup Artist

Karen Hall has dolled up the likes of Paula Abdul, Faith Hill, Conan and many more world-wide celebs that come to Phoenix to perform or make personal appearances.  Karen is called in to make the stars look amazing and many of these celebs end up asking Karen what her own personal secret is because she looks 30 years younger than her age…which she will tell you is over 60!  Hard to believe, isn't it?!   Stay tuned for another healthy and easy beauty tip from Karen next week.

Read more about Karen on our team bio page