Manic:  No time to style my hair and I need it out of my face!
Managed:  I asked managedmoms.com writer and professional hair stylist, Angelic, owner of Backstage Salon & Spa, for a few quick tricks when it comes to wearing a headband the right way.  She told me that some gals like to wear it further back on the head, while others like it closer to the forehead.  Some women prefer a thin band, while others like a thick headband.  Angelic told me it is all a matter of preference.  And it is all in the crown tease, too.  She shows us how to do it.  But first we took a look at a couple of different types of headbands and how to make each one work the best.
Angelic says:
It really is up to each individual person when it comes to which type of headband works best, but headbands can be worn by all.  Thin hair, thick hair, short or a long mane, pick the headband that best suits your hair.  A few examples and tricks to make your band work well….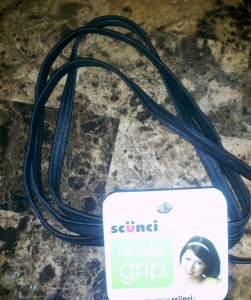 Rachel prefers the Scunci No Slip Grip and I agree that this headband does not slip.  Some of you may think it feels too tight, but Rachel doesn't think so and it does stay put on her head.  If your headband ends up riding up in the back, try securing it with a bobby pin.  It will be hidden under your hair and will keep the band in place.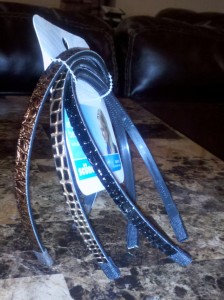 These thin headbands won't keep the hair in as well as the No Slip type will, but if you like a looser band that doesn't feel tight on your head, this may be a better choice for you.  This type of a headband is more decorative than functional in keeping the hair off your face that will stay in place.   It will still look nice, but expect to take time to adjust it throughout the day.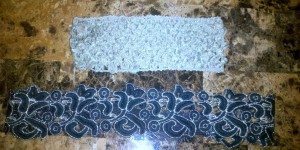 These thick head bands fit loosely and look pretty on, so if you like this type, but you want it to stay put, consider putting a thinner no slip grip band underneath.  It will be hidden by the thick headband and will keep your hair back.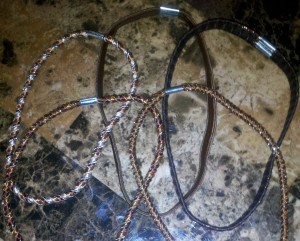 Rachel found these festive gold headbands at Walgreens that she likes.  They are perfect with the holiday season now upon us.  She asked me to do a quick headband demo using her new gold band.  Here is what we did:
1.  Gather and section the hair that will go back into the headband.  Comb through, tease and then smooth like this: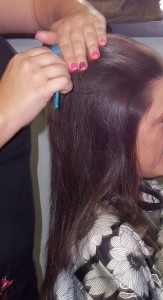 2.  Next use hair spray to secure the hair.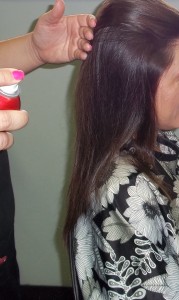 3.  Carefully place headband over the teased hair being careful not to flatten the teased crown.  Make sure the hair is tucked behind the ears, too.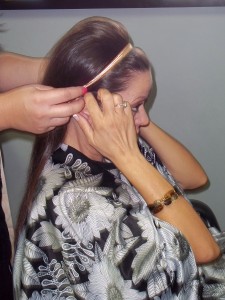 4.  Carefully smooth over any stray hairs and spray in place.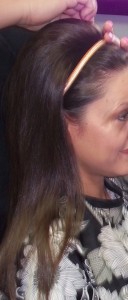 And she's done!  Plus, Rachel told me that this headband style stayed in all day and into the evening, which is a bonus for a manic managed mom who runs nonstop all day!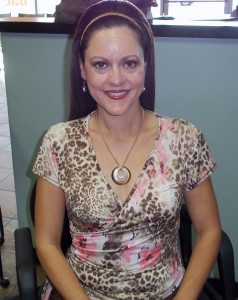 What is your favorite headband?  Share here in the comments section.  Thank goodness for the classic headband, that never seems to go out of style.
About Angelic: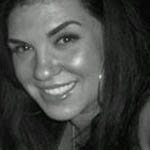 Angelic Papadakis, Hair Stylist & Owner of Backstage Salon & Spa.
Angelic has been a stylist in the Valley of the Sun for more than 15 years.  Specializing in precision cuts, Angelic has taken her passion for hair and transformed it into her salon, Backstage Salon & Spa in Tempe, Arizona.
Read more about Angelic on our team bio page