Manic:  How has our kids' 1st quarter already flown by?  And how do we make the best of the few minutes we get with teachers for this year's first parent-teacher conferences?
Managed:  Asked managedmoms.com writer and teacher Lisa Walton for some tips when it comes to making the most out of those conferences.  With two kids and a good number of conferences now under our belt, we've had glowing meetings and conferences that let us know that improvement was needed from our kiddos.  The last few years have gone pretty well, so here's hoping that we get good news this week, too!  Lisa's tips are extremely helpful, so if you have a parent-teacher conference coming up, read on to get the most out of your time with your kids' teachers and that very important conference!
Lisa says: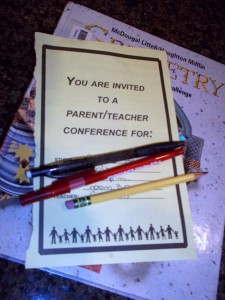 Wow, first quarter has flown by!  It's hard to believe we're gearing up for parent teacher conferences already.  As a teacher I've participated in many parent conferences.  However, my first conference where I sat on the other side of the table as a parent, I was a nervous wreck.  I wasn't sure what would happen in those 15 minutes, and I forgot to ask any questions.
Here are some helpful tips to help you make your parent-teacher conference a positive one; and help you form a partnership with your child's teacher.
 Before the Conference
Talk to your child before the meeting:  ask if there's anything they think you should know beforehand.  This may alleviate any surprises.  Ask how they are feeling about school both academically and socially.
Check your child's work:  review graded work; on-line grades and report cards.
Pay attention to homework:  note any areas of concern with homework completion, and organization skills.  Look for any patterns of new struggles, or carry-over problems from past years, or improvements in areas that used to be challenging to share with the teacher.
Ask for feedback: from any other teacher or staff members that you'd like information from (special area teachers, Gifted, special education, etc).
Prioritize your concerns: so you'll cover the most critical topics before your time is up.  Write a list of those concerns or questions to bring with you to the meeting so you don't forget anything.
 At the Conference
         *  Arrive early: with only 15-20 minutes per conference, you don't want to be late.
Make the most of your time:   try to stay on topic without small talk; and leave younger children at home.
Take notes: so you can remember what was discussed and to share with other family members and the student.
Let the teacher (or student) lead:  the conference and set the pace of the meeting.  Discuss strengths and challenges.  Share any important information about your child's home life and/or social life.
Be open, friendly and have a good attitude:  remember you both have the best interest of your child at heart.  Stay calm; it's hard to hear criticism about your child.  But try not to be on the defensive.  Take it as constructive feedback.
Allow the teacher to express their viewpoints:  but make sure your priority concerns are addressed.
This should be a two way conversation, where both parties talk AND listen.  This is time to learn about your
child at school and for the teacher to learn about what your child is like at home.
Form a partnership:  For those concerns you both agree upon, come up with a way that you can work together.
Make a plan: for how you will follow up with the teacher (emails, another meeting, notes to school, etc).
After the Conference
Follow up:  write down what you and the teacher will do to support your child.  Check in with the teacher as agreed upon at the meeting.
Talk to your child:  share what you've learned and show them how you plan to help them at home.
Schedule another time:  if needed make a plan that works for both the teacher and yourself or schedule a time to meet and follow up on any concerns raised at the conference.  Sometimes the allotted time is not enough and a second conference needs to be scheduled, or other professionals need to be included.
About Lisa: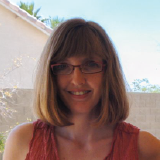 Lisa Walton–Parenting tips
Valley Teacher and Mother
Lisa Walton has been a teacher in the Valley for over 18 years. She holds a Bachelor's Degree in Deaf Education from Illinois State University; and Master's Degree in Special Education from Arizona State University.  She currently works as an itinerant teacher, collaborating with regular education teachers in the public schools.
Read more about Lisa on our team bio page