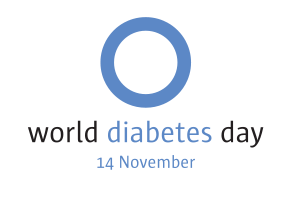 Today is World Diabetes Day, so our managedmoms.com writer, teacher Lisa Walton, asked if she could share her story about a very special little girl who is battling the disease and how the shocking diagnosis turned her family's world upside down.  So in honor of all of those who suffer from Diabetes and the caregivers that care for those afflicted with this serious disorder, this touching story is for you.
And if you haven't been affected by Diabetes, chances are you may be in some way, as sadly, the disease is growing by leaps and bounds.  Consider donating to the cause with the purchase of several stunning nail polish shades that give 100% back to fight Diabetes.  More on that in a bit, but first here is one family's powerful story….
Lisa says:
Three years ago, my girlfriend Tonya found out that her daughter was diagnosed with Type 1 Diabetes.  Her life was turned upside-down in an instant.  With no family history of Diabetes on either side of their family, she and her husband were shocked and quickly overwhelmed.  Their life became a whirlwind of blood sugar checks, insulin shots, calculating carbs, and they were in a constant state of worry. 
Since that time they have educated themselves on every aspect of Type 1 and taken charge of their daughter's diagnosis and health care options.  They are choosing to fight this disease head-on and now are educating others and becoming advocates for this cause.  Please read our interview to learn about life with Type 1 Diabetes and about a wonderful fundraising campaign that she has spearheaded.  Please help support this worthwhile cause and help their family take one step closer to a cure!
DID YOU KNOW?
Diabetes can strike anyone from any walk of life.  The numbers are increasing at a dramatic rate, currently 26 million Americans are living with Diabetes, 180 million worldwide.  Even more astonishing, the World Health Organization expects that by 2030 those numbers will more than double.  Today, Diabetes takes more lives than AIDS AND breast cancer combined –claiming the life of 1 American every 3 minutes.
**The more severe form of diabetes is type 1, or insulin-dependent diabetes. It's sometimes called "juvenile" Diabetes, because Type 1 Diabetes usually develops in children and teenagers, though it can develop at any age.
When/How did you find out your daughter had Type 1 Diabetes?
Tonya:  Our daughter was diagnosed when she was 23 months old. We first became suspicious when she continually asked for something to drink. Then, when she began soaking through diapers with alarming speed, we became more concerned. The weekend before she was diagnosed, she seemed to have no energy and wanted to sleep all the time. So, on Monday, we went to see her pediatrician and my worst fears were confirmed by a blood test.   We were immediately rushed by ambulance to a pediatric intensive care unit.  We spent the next 3 days in the hospital, learning as much as we could, as quickly as we could, about this new reality we found ourselves living in.
Looking back on it now, I was in such a state of shock; my memory of that time and the next few months is mostly a blur. We have no history of any type of diabetes on either side of our family. Her diagnosis hit us like a freight train and turned our world upside down in an instant.
Describe what a typical day is like for your family living with Type 1:
Tonya:  In 3 years, things have become easier and we have learned not to stress so much. At first, I was afraid to go anywhere too far from home, in case we experienced an emergency and needed to return to our home base.  With a diagnosis of Type 1 Diabetes, life instantly loses its spontaneity. Everything must be pre-planned and usually revolves around a blood sugar check or eating schedule.
People with Type 1 Diabetes must test their blood sugar frequently, usually every 2 to 3 hours, and then, they will usually need to take some immediate action, depending on what their blood sugar reading is at that moment. If it is low, they need to eat or drink something right away. If it is high, they need to give themselves a little insulin, either via injection or via an insulin pump, to help bring their blood sugar down. It is a constant balancing act, 24 hours a day, 7 days a week, even while they sleep!
I think some people feel that with insulin this disease is controllable. Is that truly the case?  
Tonya:  People ask us all the time if we've got our daughter's blood sugar "under control." To which I answer, "Maybe it is within her target range right this minute, but ask me that question again in 5 minutes, and I might have a different answer." Our blood sugar levels are constantly changing. Blood sugar levels are affected by so much more that just food.
Blood sugar is also affected by exercise, stress, growth spurts, illness, anxiety, fear, etc. Emotions play a big, unpredictable role. So, we do the best we can. There is so much going on the body which is unknown, and therefore, out of our control, despite our best efforts. Insulin is not a cure. It is life support that keeps all Type 1 diabetics alive.  We thank God every day for those brilliant Canadian doctors, Dr. Banting and Dr. Best, who discovered insulin in the early 1920's. Before their amazing discovery, a diagnosis of Type 1 Diabetes was a death sentence.
Do you ever get a full night's sleep?
Tonya:  I have not had a continuous night's sleep since she was born in 2006. Until her diagnosis in October of 2008, I was just like an other mother of a toddler; dark circles under the eyes go with the territory.  But, as soon as she was starting to sleep through the night, she was diagnosed with Type 1. Along with the daily stresses of managing diabetes, what most people don't know is that diabetes doesn't stop when we go to sleep.  I am up every 2 or 3 hours, every night, checking her blood sugar and treating highs and lows throughout the night. Our Type 1 kids are amazing in that they can get their fingers pricked for blood sugar checks, eat, drink, and sometimes have an insulin pump site change or an injection in their sleep – without waking up!! These kids are my heroes!! So, if you see a parent of a child with Type 1 Diabetes and wonder why we always look so tired… now you know.
Tell me about your fundraiser Tips4Type1 and why you spearheaded this effort: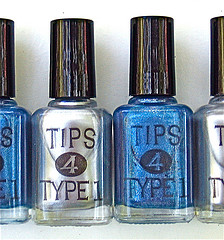 Tonya:  I have been searching for an idea, something I could do, to raise both awareness for Type 1 Diabetes and money for research.  The idea for Tips4Type1 came last year when I saw an ad in a magazine for a pink shade of nail polish. At the bottom of the ad it said, "A portion of sales will be donated to such-and-such research." And I thought, "Why can't someone do that for Type 1 diabetes, with our silver and blue awareness colors?"! One of my goals for this project is to help make the colors silver and blue as synonymous with diabetes research as the color pink is for the other cause.
Once I had the idea for my silver and blue nail polishes, I contacted a few big nail polish companies and discovered that they don't work with individuals such as myself. So I started doing research, figured out how to get my own custom nail polishes manufactured, asked my graphic designer friend to design a logo, created a web site, and www.Tips4Type1.comwas born!  $10 from each sale of our nail polish is donated to the DRI (Diabetes Research Institute), while we make no profit for ourselves.
One of my favorite things about our Tips4Type1 project is that it is a mother-daughter effort. Our daughter is my number one helper. She gets so excited when I tell her we have another order to fill! She assembles the boxes, helps me pack them and applies the mailing labels. I love that she is learning to become both a philanthropist and an entrepreneur at the ripe age of 5!
I chose the Diabetes Research Institute to be the recipient of our donations because I believe in their CURE-focused approach to research and I believe they are "The Best Hope for a CURE," just like their mission statement says.  While new developments and devices are great, all I truly want for our daughter and all of our T1 friends is for Type 1 Diabetes to just GO AWAY… FOREVER!  I want a cure.
The Myths – What Type 1 Diabetes is NOT…
NOT contagious
NOT caused by an unhealthy diet or lifestyle
NOT just for kids
NOT something you outgrow
NOT preventable
NOT cured by insulin
The Truths – What Type 1 Diabetes IS…
an autoimmune disease (the body attacks itself for reasons unknown)
diagnosed in approximately 80 people per day in theUnited States
a challenge and a balancing act, 24 hours a day
never "under control"
an ever present part of every aspect of life
a constant threat of life-altering complications
For more information regarding Type 1 Diabetes go to:  http://www.diabetesresearch.org/
Thank you to Tonya and her family for their help with this article, they continue to inspire me throughout their journey.
To all the D-Moms/Dads and Type 1 kids out there, keep up the faith and the fight!
About the Author…Lisa Walton: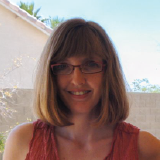 Lisa Walton–Parenting tips
Valley Teacher and Mother
Lisa Walton has been a teacher in the Valley for over 18 years. She holds a Bachelor's Degree in Deaf Education from Illinois State University; and Master's Degree in Special Education from Arizona State University.  She currently works as an itinerant teacher, collaborating with regular education teachers in the public schools.
Read more about Lisa on our team bio page