Thank you to managedmoms.com reader (and she is one of our writers, too!), Lisa Walton, for finding this funny pet pic.  Lisa's friend, Thad is this cat's human and he gave us permission to share it.  Thad says this about the picture….
"Now that is what I call a Face Plant!"…….take a look and see if you agree….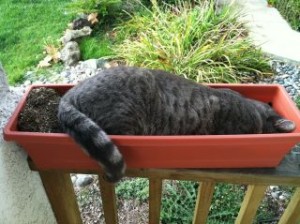 We agree, Thad!  Thanks for sharing your funny feline picture!
Send us your pet picture for our weekly pet pic.   We post one every weekend and we've had some great ones of dogs, cats and birds.  Take a look under the pets section of our website, that can be found on the home page.
Have a great weekend everyone!