Who is our Freebie Friday winner today?  What did she win?  What is next week's cool prize?  Keep on reading!!  And remember if you are a subscriber, then you are automatically entered in our weekly drawing for great prizes that include beauty items, cookware, jewelry and more!  Lots of cool stuff!  Now, let's announce this week's lucky winner….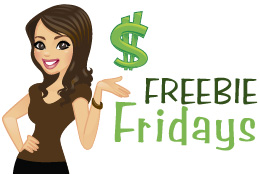 This week's Freebie Friday winner is:
Noelle Caccia from New York, NY
(winner selected through random.org)
Noelle won: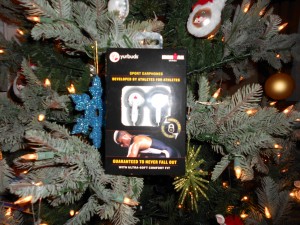 This is an awesome prize!  Ironman Yurbuds sport earphones!  Perfect to give as a gift or to use for yourself when you make your New Years fitness resolution!  These ear buds were developed for athletes by athletes and even if you are just a regular moderate exerciser like me (yep, my New Years Resolution is to increase that!), you will love how these ear phones stay in your ear.  The buds are uniquely shaped and made with an ultra-soft comfort fit that are the best that I've seen!  Move to your music and get healthy with exercise!
Congratulations to Noelle and thanks for being a managedmoms.com subscriber!
And what is next week's cool prize: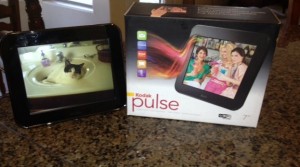 This is a terrific prize and a special thanks to Kodak for giving managedmoms.com one to give away!  Next week's winner gets a Kodak Pulse 7 inch digital frame.  I love mine!  You can easily load pictures into this cool digital frame from your smart phone, email and more.  This fabulous frame gives you years of precious memories that are right at your fingertips for you to share and to enjoy!
Good luck everyone!
HOW TO ENTER NEXT WEEK'S FREEBIE FRIDAY…
Do you want a chance to be in the Freebie Friday drawing for next week?  If you are a subscriber, you are automatically entered!
If you are not a subscriber, subscribe now at www.managedmoms.com.  Simply subscribe to the website by filling out the area in the right hand column that says "subscribe to managedmoms.com."  Being a subscriber means that you simply get a notification email each time we run a recipe, article, beauty tip, coupon and more.  We don't share your email address with anyone and you are automatically entered into the weekly Freebie Friday drawing for your chance to win a cool prize every Friday.  It is that easy!
To enter without subscribing, simply fill out an entry form at:  https://managedmoms.com/freebie-friday-entry-