Manic:  All of it!  Baking cookies, wrapping, shipping, hiding gifts from the kids, traveling and more during the holiday season!
Managed:  Remembering to slow down, enjoy the moments and capture the moments with my camera!  So I asked our managedmoms.com expert, professional photographer Elizabeth Langford to share some top tips when it comes to snapping some great holiday pics.  She has some terrific advice, so read on!
Elizabeth says:
With Christmas just a handful of days away, you not only need to finish wrapping presents, baking cookies and preparing for the holiday… but you also should be documenting the holiday with great photos.
Here are three tips for getting great holiday photos…
# 1. Photograph the Details It may seem simple, but the small details often get overlooked when the camera comes out. If you've decorated your home for the holidays or if your visiting loved ones, but sure that you snap some details along the way.  Handmade decorations, ornaments and goodies all deserve a place in the holiday photo album or folder. Years from now you'll look back and remember how those little details were part of the larger memories you were building with your family.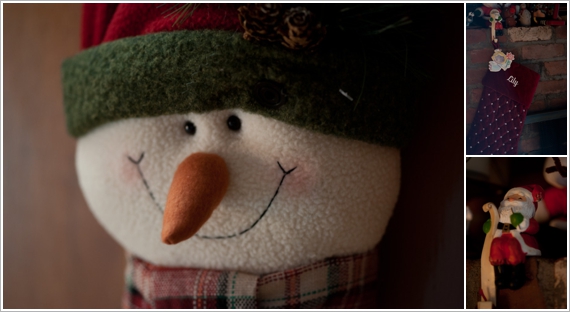 #2. Get a Mix of Pics Try to capture a mix of posed and candid images this holiday. This is easier said than done… especially with little ones. When you look back through your holiday pictures you'll appreciate taking the time to have everyone look at the camera, but you'll also enjoy having those candid images of your kiddos opening presents on Christmas morning. Photos freeze a moment in time for you to enjoy for years to come.

#3. When to Flash. When to Not. Whether you're using a point-and-shoot or a fancier DSLR camera you'll have to choose when to use flash and when not. Natural light in general is more flattering for people than flash… but you don't always have enough of it. If you're losing the details in your images you'll need to use more light to illuminate those details… time for your flash.  If you're photographing Christmas lights on your home try to shoot them while there is still a little bit of ambient light in the sky. This will allow you to capture both the structure of the house as well as the illuminated lights.  Shooting when it's too dark outside can result in Christmas lights looking like they're floating as opposed to decorating a structure.
The photo of the snowman below didn't require the use of flash. Enough of the details can be seen without the use of flash and because the snowman himself is making enough light you can see a bit of texture below him. Unfortunately the photo on the right of the Christmas lights could have benefited from using flash to give structure to the image. Those Christmas lights are strung along two large bushes, but it's impossible to see them.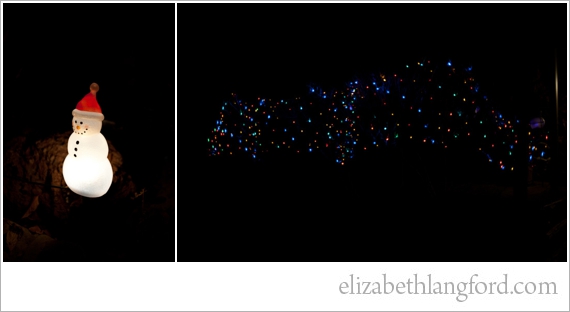 Finally… the most important thing you can do when it comes to holiday photos… take them!!! You can't get these moments back so be sure you have your camera ready with a fresh memory card and fresh batteries. Then pick up your camera, take it with you, take it out of it's case and start snapping away. You'll be so glad you did. Oh… and moms, don't forget to have a few photos taken with you in them!!
Merry Christmas and Happy New Year!  – Elizabeth | Elizabeth Langford Photography
About Elizabeth: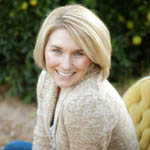 Elizabeth Langford–Expert advice on how to photograph your family like a pro!
Professional Photographer & Graphic Designer
A former reality television producer and project manager, Elizabeth is a professional photographer and graphic designer.  A graduate of the University of Oregon, Elizabeth has taken her background in journalism and combined it with passion for storytelling through photography and graphic design. Her business is focused on wedding, engagement and senior portrait photography.  "My most precious possessions are my photographs. Snapshots from my childhood. Photos from the day I married my husband. Shots from the day my daughter was born. Those images tell the story of my life and it's my passion to make images for my clients that tell the story of their lives." – Elizabeth. Visit Elizabeth's website to see her work and to schedule a portrait session.