Thank you to managedmoms.com subscriber, Lisa Walton, for sending in this picture of their festive and helpful dog, Geo!  He says…"I'm ready to lend a helping paw" and I think he is excited that it was time to put up the Christmas tree!  Take a look…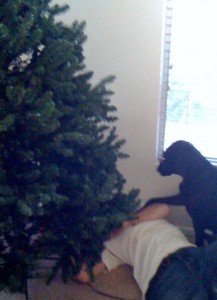 We love this picture!  Thanks for sharing, Lisa!
Send us your festive pet pics!  We post one every weekend for fun and boy, we have had some great ones!  Check them out under the Pet Pics section of this site on the home page.  Happy Holidays to you and to your pets out there!