Thank you to our managedmoms.com subscriber, Melissa for sharing this fun picture of her smart dog, Finley!  Yep, even though he is a dog, we think that he is actually quite a card shark!  See what we mean….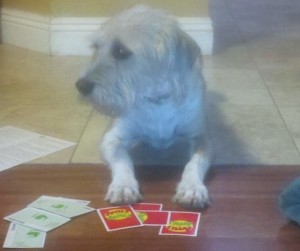 Send us your funny and cute pet pics!  We love to get them and look forward to sharing your furry companion pics every weekend on managedmoms.com!  We are big believers that pets reduce our stress, so share with us!
Have a great weekend, everyone!