Manic:  My kids having several growth spurts right in a row, leaving the clothes that I feel like I just bought for them, way too small…again!
Managed:  Learning about an awesome event that has amazing deals for parents shopping for kids' clothes, shoes, toys and more.  Save some serious money and check this out…
Got Kids?  Clean Up and Cash In at the Next Just Between Friends Sale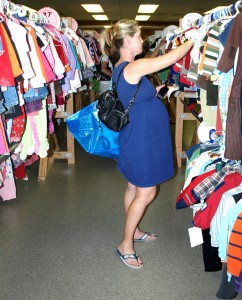 Just Between Friends (JBF), the nation's leading children's and maternity consignment sales event,   is returning for their 4th semi-annual event serving the northwest valley.  The spring event will be held March 16-17, 2012 at Rio Vista Recreation Center, 8866-A W Thunderbird Rd, Peoria, AZ.
JBF events offer savvy Phoenix families an opportunity to save big (usually 50-90% off retail) on all the things needed for a growing family, from clothes to furniture and toys to maternity items. You'll find tens of thousands of items for raising kids aged 0-teens.
Families can maximize their savings by also making money at the JBF sales event; there is still time to consign.  Just Between Friends brings consignors (sellers) together with shoppers to offer savings and earnings to families in the community.  Consignors get to set their own prices and earn 65% on all the items sold.  To earn 70%, consignors can volunteer at the event.  Consignors then get a check in the mail within two weeks of the sale. Log onto our website at www.jbfsale.com for more details.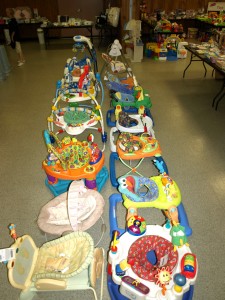 Just Between Friends has over 114 franchises across the nation and is growing in Arizona. JBF now offers three regional events to meet the needs of Arizona families that can be found in Phoenix (NW), Scottsdale and Tucson.
"I'm thrilled to see how these community sales have grown over the past few years in Arizona, and we are excited to bring this opportunity to the northwest valley again," says Amy Jordan, coordinator of the Phoenix (NW) event. "When you help families earn valuable income from items they already have in their homes and provide a venue where they can find significant savings on the items they need next, you have discovered a win-win for the entire community."
Want to win a $25.00 gift certificate?
JBF of Phoenix (NW) invites you to join their mailing list, so you can stay up to date on the dates and locations of their semi-annual events.  Sign up at this link by March 2, 2012 and mention you were referred by ManagedMoms.com.  You'll be entered into a drawing to win a $25.00 gift certificate for use at any of the Just Between Friends events in Arizona this year – and $25.00 goes a LONG way at a JBF Sale!