Manic:  In these crazy days with the manic schedules we keep, sometimes I have to really remind myself to model respectful behavior, like when I'm in line at the school and the car in front of me fails to move forward, slowing the entire line down…which can result in unwanted tardies.  Oh the stress of morning drop-off!  I try hard to leave ten minutes earlier, but that doesn't always happen.  So when that car in front of me isn't moving right along, I want to yell and honk, but then I remember that a certain set of eyes are watching my every move….my child's eyes…my mini me who will probably do more of what I do, than what I say!
Managed:  Reminding myself to be respectful and discovering some great ideas for kids that model the respectful behavior you want to teach them in a fun way.  Managedmoms.com writer Lisa Walton wrote a great piece for us today on how to do exactly just that!  Take a look…
Lisa says: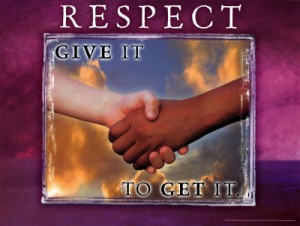 © Copyright Summerset Media
These days people often complain that children (and adults) lack respect.  In order for anyone to learn respect it must be modeled for them.  Parents joke that children should "do as I say, not as I do", but in reality children learn more from how their parents act, and not from what they say.  Not so easy, is it?  Well, here are some suggestions that can help you teach this valuable skill to your kids through fun activities and books.
Character Counts:  Respect
Treat others with respect; follow the Golden Rule
• Be tolerant and accepting of differences
• Use good manners, not bad language
• Be considerate of the feelings of others
• Don't threaten, hit or hurt anyone
• Deal peacefully with anger, insults, and disagreements
Teach the Golden Rule:
This ethical and moral code has it's roots in many ancient cultures.  The concept can be found in philosophy, sociology, and many religions.  The Golden Rule states that you should treat others the way you would like to be treated yourself.
Teach Manners:
Children don't learn manners naturally; they have to be specifically taught.  When teaching your children manners, it is important to explain why these behaviors are important.  For example, explain that thanking someone for a gift shows them that we appreciate the thought, time and money that went into choosing and purchasing the gift. A child needs to be taught that we look people in the eye when they are talking to us to show that we are respectful listeners, and we don't interrupt.
Teach and Enforce Rules:
Just like teachers set up classroom rules, so should you in your own home.  Teaching children to follow the rules teaches respect for authority.  Chores give children the chance to help around the house and learn respect for your home and property.  It also teaches them respect and appreciation for being a contributing member of the family and household.
Real Life Teachable Moments:
Children learn so much through experience, so be sure to take the opportunity to have a discussion with your child when you see someone acting either very respectfully or very disrespectfully. If you encounter a disrespectful individual, model calm respectful behavior for your child.  Use that opportunity to discuss what better options that person could have chosen to act more respectfully.  According to the U.S. Department of Education, "our examples of good behavior can teach our children to take the high road when other roads look tempting."  When you see your children showing respect for another person be sure to compliment them.
Role Play:
Role playing is a fantastic way to demonstrate concepts for younger children. Role play a disagreement between two people, so your children learn that they can disagree without being disrespectful. Role play future events for your child such as an upcoming party, showing them expected behavior like how to greet the guests and thank them for his gifts.
Activity:  Make RESPECTacles (Pipe Cleaner Glasses)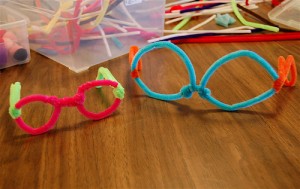 Teach children that glasses are sometimes called spectacles, and help them make these called "respectacles." Have them wear their pipe cleaner glasses while you read short stories or role-play about children being respectful or disrespectful. Have them determine if the behavior is respectful and, if not, what could have been done differently.
How to Make:  Use two 6-inch pipe cleaners and one 12-inch pipe cleaner. Turn the pipe cleaners into glasses by twisting the ends of the long pipe cleaner together to create a circle. Twist the circle in the middle to create 2 connected circles for lenses. Attach a 6-inch pipe cleaner to each side and bend at the ends to fit around the student's ears.
Teaching about Differences/Being Unique:
Encourage discussions about what makes each child unique and why people should be respected for the unique qualities they possess.  Have children illustrate a unique person or animal and discuss what attributes make them unique.  Teach children to appreciate that they are unique and special.  This not only teaches them respect for others but respect for themselves.
Activity: Make Fingerprints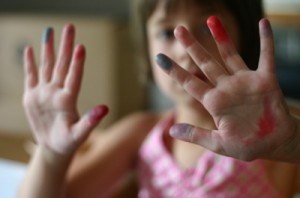 Have children put their fingerprints in ink and press their hand on a piece of paper. Have the children compare the pieces of paper with one another and talk about how each of the children is different. Then discuss how the difference makes them special or unique.  Explain that no one else's fingerprints are the same as their own.
Read About Respect:
When reading to your child, select books that demonstrate characters learning about and showing respect. For your children who read independently, recommend some titles for them.  Here are some suggested titles that focus on respect.  The librarian at your child's school or public library can also suggest new titles to you that deal with the theme of respect.
Inch by Inch by Leo Lionni
Dragonfly's Tale by Kristina Rodanas
The Grouchy Ladybug by Eric Carle
Yoko by Rosemary Wells
Stellaluna by Janell Cannon
Amazing Grace by Mary Hoffman
Smoky Night by Eve Bunting
Through Grandpa's Eyes by Patricia MacLachlan s
Flowers for Algernon by Daniel Keyes
The Pigman by Paul Zindel
The Prince and the Pauper by Mark Twain
About our writer, Lisa Walton:
Lisa Walton–Parenting tips
Valley Teacher and Mother
Lisa Walton has been a teacher in the Valley for over 18 years. She holds a Bachelor's Degree in Deaf Education from Illinois State University; and Master's Degree in Special Education from Arizona State University.  She currently works as an itinerant teacher, collaborating with regular education teachers in the public schools.
Read more about Lisa on our team bio page