Manic:  My piles of clutter that seems to multiply daily!
Managed:  Asking our managedmoms.com home decor expert how she keeps her own busy home so organized and clutter-free.  I love her answer.  Check out what she does and give it a try…
Bridget says:
Who says they don't have anything to throw out?  Everybody does.  From old Christmas trees to big boxes, old bikes, broken tools, sports equipment and cardboard from your garage.  There is always something that is taking up space or an item that no longer works.  How about stuff that you haven't used in the last six months?  This time of year is the perfect opportunity to declutter your home, spring clean and make room for the stuff that you actually do use!  And once you have your pile ready to go, check out your city's bulk trash pick-up date.  Mine was last weekend, so I moved this pile out front, and like magic, the city takes it away for me.  I love this service!
Here is the link to City of Phoenix bulk trash pick-up schedule…
http://phoenix.gov/publicworks/garbage/bulktrash/bulkschedule/index.html.
Just click this link and the page will ask you to enter in your address.  Once done, you are given your street's next bulk trash pick-up date.  It is this easy.
Check out my gotta go bulk trash pick-up pile!  It feels good to get rid of this junk that was taking up way too much space!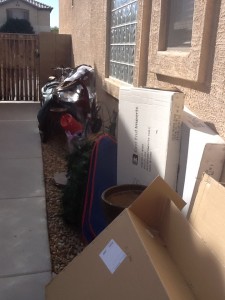 I started this pile right after Christmas.  I have been adding to it ever since.  Having a bulk trash pick-up pile is also a good way to teach your kids to get into the habit of going through closets and drawers every four months.
We also regularly go though our clothes to see what can be taken to Goodwill.  Now my house is clean and organized and we have room for new things or we just simply enjoy the open space, which I think reduces family stress, too.
Everybody has something that they can get rid of.  And taking advantage of your city's bulk trash pick-up is great way to clear the clutter!
What declutter and get organized tips does your family practice?  Share here in the comments section.
Happy Cleaning and Organizing!