A big thanks to managedmoms.com reader Jessica Burns from Washington State, for a great guest post that she shares with us today.  Jessica wrote to us to ask if she could share how one school helped to make a difference with their full participation in World Read Aloud Day.  Not only did this school help to increase awareness about worldwide illiteracy, but as a parent I was reminded of the importance to read aloud with my kids.   The school is Soundview School in Lynnwood, Washington and Jessica was very inspired by how the students celebrated World Read Aloud Day.  Check this out…
Jessica says:
Worldwide at least 793 million people remain illiterate; on March 7th that staggering statistic was brought to the forefront through World Read Aloud Day, an awareness day advocating for literacy as a right that belongs to all people.  The goal of World Read Aloud Day is to "motivate people to celebrate the power of words, especially those words that are shared from one person to another."  The idea is that by using our voices as a whole through reading aloud, we have the ability to show the world that we all have a right to read, write, and share words as a way to make the world a better place.
The day was acknowledged in various different ways around the world.  Some of the ways that the day was celebrated included:
–       Reading aloud in a community group
–       Reading aloud with someone across the world via video chat
–       Hosting a read-a-thon
–       Hosting a book swap party
–       Hosting a dress up party, where participants dressed up as their favorite book character
At Soundview School, each class took time to read aloud that day and talked about World Read Aloud Day (WRAD) and the importance of reading.  One of my favorite quotes from the day was from a 2nd grader who upon hearing how many people around the world can't read, said, "I'm sure that if it was up to our class we would make sure that everybody in the world could read!" Here is a picture of the 2nd grade class participating in WRAD activities.  In the first picture, the students are being read to by Valerie Stein, Soundview School's librarian and one of Washington state's WRAD ambassadors…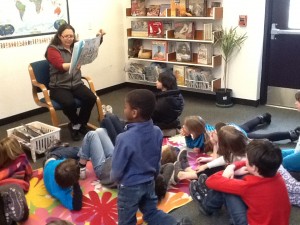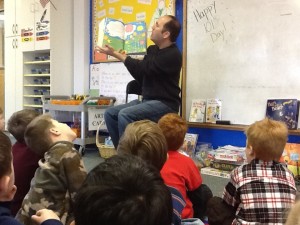 This year was a hallmark year for World Read Aloud Day with a record number of authors around the country signing on to participate in worldwide video chats that featured them reading from their books.
World Read Aloud Day was created by LitWorld, a non-profit organization that works to cultivate literacy worldwide.  For more information about LitWorld and WorldRead Aloud Day, visit www.litworld.org
Thank you to Jessica Burns, our guest writer today, for sharing this article that reminds all of us the importance of reading to….and with…our kids!