Manic:  Kids today trying to keep up with our manic schedules!
Managed:  Check this out!  Enroll your daughter into a local princess workshop that is not only super fun, but also teaches etiquette, manners and poise, along with some super cool activities for the girls that include a tea party, Royal Ball and more!  What a creative and fun way to learn manners while having fun and it is all being offered at the Ahwatukee Children's Theatre in conjunction with Girls Looking Cute and Grace Inn.  And there is even an event for the prince in your life!  Here are the details…
Calling All Royalty!!  Join the Ahwatukee Children's Theatre in conjunction with Girls Looking Cute and The Grace Inn for some amazing Princess workshops that include: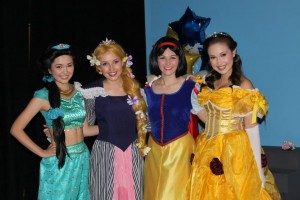 1.  April 7 – 1:00 to 4:00pm – "How To Look Like A Princess Workshop"
Designed for girls' ages 3-12, the little princesses will arrive to the workshop in their favorite sparkly outfit or come dressed as their favorite princess before they are magically transformed into one as they walk into their world of enchantment. The princesses will receive a complete makeover including painting their nails, styling their hair and adding a puff of shimmer make-up to their cheeks. Their new look will be topped off with stylish accessories including tiaras and play jewelry. The girls will then attend "Runway 101", a runway class taught by their favorite Disney princesses and they will end the day with a glamorous photo session and fashion show; complete with paparazzi.
All princesses' ages 2 to 12 can register to attend this fun tea-party event! The little ladies will join their favorite princesses for their day to learn how to curtsy, learn special songs about being a princess, be taught proper etiquette, manners, style and grace. Any child would love this magical and memorable event, as they will pose for many pictures with all the beautiful princesses as they enjoy their afternoon tea.
3.  April 28 – 6:00 to 8:00pm – Daddy/Daughter & Mother/Son Ball
Come one come all to the Royal Ball! All little princesses and princes in the village are invited to come dressed in their finest and attend this royal event alongside their parents. Guests will enjoy light refreshments, enjoy fancy photos in front of royal backgrounds, and learn a professional ballroom dance lesson. The royal court will crown all princes and princesses in attendance with a crown. Enjoy royalty with your children, and make some amazing memories!
Tickets are $35.00 each for a princess and a parent or join us for ALL 3 workshops for only $90.00
Space in available in all 3 workshops but is limited!