Manic:  Want to go big and bright with my style and makeup now that my favorite season is here…Spring, but I'm unsure how to pull it off.
Managed:  Checking out celebrity/professional makeup artist Karen Hall's advice!  Managedmoms.com is SO lucky to have her as one of our talented writers!  Take a look at her terrific tips…
Karen says:
The trend for bright colors everywhere is growing even stronger!  How can we use some of these vivid colors in our makeup routine without looking like a clown?   Here are some bright ideas!
First of all, remember a little color goes a long way…..especially on the face.  Keep it modern by picking one area only to colorize.   A good place to start is your lip color.  If your eyes have warmth (brown or green), try a great tangerine.  If your eyes are blue, try a hot pink or fuchsia .  Remember to always line your lip with a neutral color first, and then apply the bright color.   Using a lip brush will keep it bold.  Using it from the tube and spreading it with your finger will soften it.  Play with the look you want…bold and defined, or soft and sheer.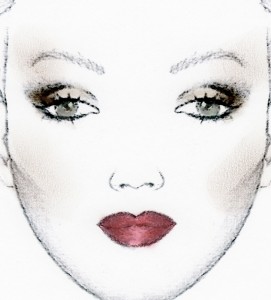 Eyes are a bit trickier.  You don't want to take away from the beauty of your own eye color, so rather than a colored shadow over the entire lid, modernize the look by lining your eyes first in black, and just above the liner, add a touch of your chosen color.  Then add a bit to the corner of the eye (iridescents look great here).   Another way to add color in a more exotic way, is to line the inner rim of the eye (the water line) in a vibrant blue or green, leaving the rest of the eye neutral.  I love this look at night, and it is much more effective than colored mascara.

When it comes to blush, keep it sheer, as vivid colors are harsh when dense and matte.  Remember to add a touch of the blush color under the brow bone onto the temples for balance.   Always start with a light touch, building as you go, and HAVE FUN!!!
Karen Hall, Celebrity Makeup Artist
Karen Hall has dolled up the likes of Paula Abdul, Faith Hill, Conan and many more world-wide celebs that come to Phoenix to perform or make personal appearances.  Karen is called in to make the stars look amazing and many of these celebs end up asking Karen what her own personal secret is because she looks 30 years younger than her age…which she will tell you is over 60!  Hard to believe, isn't it?!   
Read more about Karen on our team bio page