Manic:  My daughter during her preschool years!  With her energy and spirited ways, we had our hands full with our sweet girl!
Managed:  Finding Ahwatukee Children's Theatre (ACT)!  She has thrived acting in plays, singing solos, dancing and reciting good-sized monologues….I remember when she had to do the magical potion monologue when she was the Evil Queen in Snow White.  She did it, she did it well and she was only 6 years old at the time!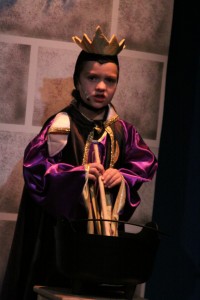 Now as she approaches her teen years, ACT has become an important part of her life, both educationally, socially and when it comes to setting goals.
And managedmoms.com writer and school teacher, Lisa Walton, has a son who has also thrived at ACT, so I thought it would be interesting to get her perspective when it comes to having a boy who is involved in theater, so read on to see just how much theater can teach your child!
Lisa says:
There are many soccer, and hockey moms out there.  In our family it is basketball; we spend a lot time running to games and practices.  However, first and foremost I am a theater mom.  No, not one of those scary stage moms portrayed on shows like "Toddlers and Tiaras", but I am a huge advocate for children's theater.
In fact, for the past five years our second home has been Ahwatukee Children's Theatre.  We spend a lot of time volunteering and helping raise awareness of the theater because we value it so much.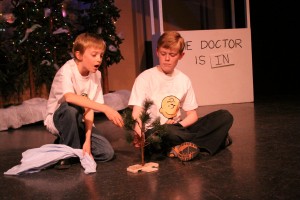 There are so many benefits to the Performing Arts that I try to share with others, but there are also some myths that need to be dispelled.
Myth:  You already have to know how to sing/act/dance
Truth:  You do not need to have those skills already to participate.  Singing, acting, and dancing are skills that you learn just like anything else. While some children may have a natural ability for these things, their talents can be honed through formal classes.   Our children's theater teaches all of those skills and proper techniques.  They offer classes, lessons, and camps for all age groups of kids with varying levels of experience.  Classes and camps offer parts in shows for everyone that signs up.  Auditions occur within the class/camp setting for principle parts.  The running mantra in our theater is that "there are no small parts, just small actors!"
Myth:  Theater isn't beneficial for boys
Truth:  There are many boys involved in theater.  My son has several older mentors and alas, idols in our theater.  They are great role models for him to look up to and go to for advice and support.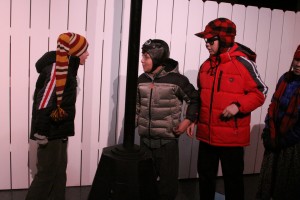 Boys (or girls for that matter) shouldn't have to choose between sports and the Arts.  In addition, children in this day and age should not be defined but what activity they participate in.  My son plays basketball and does theater.  In fact, he fancies himself a younger Troy Bolton.  But neither of those things DEFINE him.  That is one thing I love about theater, it's accepting and finds a place for everyone.  It gives kids a chance to feel important and feel like they belong somewhere.
Myth:  Theater is just for fun, they don't really learn anything important
Truth:  In addition to singing, acting, and dancing, musical theater teaches important life skills.  It teaches children creativity and how to use their imagination.  It teaches them to become a team player and cooperation.  It teaches respect, acceptance, and responsibility.  Kids gain confidence and learn critical public speaking skills.  It improves their memory skills, music and language skills. But yes, most importantly they learn by having fun.
When my son was in first grade we enrolled in a summer camp program at Ahwatukee Children's Theatre.  They performed "Cinderella".  He was asked to be the Prince, but vehemently refused.  He just wanted to be a mouse, or a townsperson, lacking the confidence to do a bigger role.  But by the end of camp, he was hooked!  Not only did he sign up for a class in the Fall, but he eagerly auditioned and accepted the role of Prince Phillip in "Sleeping Beauty".  Of course, getting to carry a sword and slay a dragon may have also been an incentive!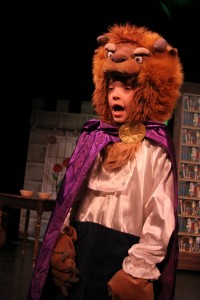 I have seen huge growth in my son since he started in theater five years ago.  He's no longer afraid to get up in front of the class.  Actually, now he loves oral presentations and school performances.  He looks people in the eye and speaks clearly and directly to them.  His confidence has grown by leaps and bounds.  In fact, this year he not only ran for student council, he campaigned to be president.  He lives to perform, any where, any time.  He even shocked me and looked somewhat calm during the school spelling bee this year.
While theater may not be your child's life passion; the lessons they learn from theater will last them a lifetime!
 Have your kids try out theater this summer!
Ahwatukee Children's Theater has summer camps for ages 5-19.
"Cinderella" will be performed in June at a wonderful venue, Chandler Center for the Arts.  It's a wonderful opportunity for our kids to perform on a professional stage.  We are also holding camps for kids in grades K-6 to do "Flat Stanley's Musical Adventures" in June and July. A.C.T. offers vocal camp and an audition workshop too.
For more information go to www.azact.org
About our writer, Lisa Walton:
Lisa Walton–Parenting tips, Valley Teacher and Mother
Lisa Walton has been a teacher in the Valley for over 18 years. She holds a Bachelor's Degree in Deaf Education from Illinois State University; and Master's Degree in Special Education from Arizona State University.  She currently works as an itinerant teacher, collaborating with regular education teachers in the public schools.
Read more about Lisa on our team bio page