Manic:  My makeup drawer.  It was messy and unorganized!
Managed:  I organized it and I got some great tips from local beauty expert Erin Hennessy, who not only has terrific beauty advice, but she also gives makeovers, makeup assessments and even takes women shopping for new cosmetics that will update her look.  When one of our managedmoms.com subscribers told me about Erin, I asked her for a few tips and my gal pal, Julie signed up for the makeup assessment and shopping trip.
Julie's Makeup & Shopping Day with Erin
Right when Erin arrived, we both immediately liked her.  She is friendly and is a busy mom working to balance it all, just like us.  What is different from us is that she knows her stuff when it comes to cosmetics, makeup application and personal shopping.  To get Julie's makeup drawer updated and streamlined, here is what she did:
After the shopping trip, they returned to Julie's house and incorporated her new purchases into Julie's existing makeup drawer.  Julie loved Erin's picks and tips.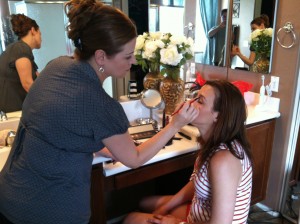 Plus Erin applied the makeup on Julie to show her the best way to work with her new purchases, as well as her existing makeup.
Julie says:
"Erin was so much fun to work with!  I loved how she incorporated my existing makeup into my new look and helped complete my makeup wardrobe, just as a stylist would with your clothing.  She's very knowledgeable about cosmetics and beauty products and she is a great resource.  Plus she taught me some useful tricks, such as putting mascara on both sides of your lashes for extra impact.  My favorite part of the experience, though, is that I finally found the right red lipstick. Red has been a mystery for me for years. I love the look, but I look like a clown in most colors.  She suggested I try a darker shade, that I was sure was going to look goth on me, but to my surprise, with my coloring, it turned out to be the perfect red. I would definitely recommend shopping with Erin!"
To learn more about Erin Hennessy check out her website and business called Let's Go Shopping.  Contact Erin Hennessy for pricing and for bridal services, too!  She provides a thorough consultation and a complete wedding day makeup application that has brides looking radiant and perfect for her big day, her pictures and her new hubby!
Julie had a blast with Erin and loves the results.  Plus it feels good to organize our cosmetics and to get a makeover with personal shopping and personal details customized for your face.  Consider treating yourself to Erin's services and streamline your makeup while updating your look.  I think we hard-working gals deserve a little pampering and personal makeup shopping.  So fun!
***No monetary compensation was provided for this article.  The makeover and shopping session were provided free of charge for this story, but the opinions are 100% mine and 100% Julie's.***