Manic:  My kids at times with lots of summer vacation days left and not always a lot to do!
Managed:  Bought our tickets to see the Ahwatukee Children's Theatre production of Rodgers & Hammerstein Cinderella which plays on June 30th and July 1st at the Chandler Center for the Arts.  This is a fun musical for the entire family AND there is a Princess meet and greet opportunity at the show, too!  So our managedmoms.com writer, Lisa Walton attended a sneak preview rehearsal to gives us her review….
Lisa says: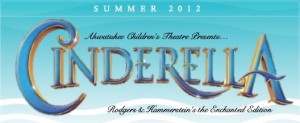 I had the privilege of watching rehearsals for this upcoming show at Chandler Center for the Arts.  I was immediately enchanted by this group of young actors.  This event is one you and your family won't want to miss!  I interviewed Michele Rubino, executive director of Ahwatukee Children's Theatre to get the inside scoop and preview "Cinderella"….
———————————————————————————————
1.  Who should come see the show & why?
Michele:  Families with young children will love the music, colors and the familiar story. Little girls can dress up and meet some of their favorite fairy tale princesses before AND after the show.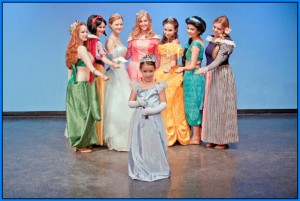 A few lucky little princesses will even have the opportunity to come on stage and dance with Cinderella at the close of the show! Musical theatre and Disney enthusiasts will enjoy the Rodgers and Hammerstein music. This time, it's done with a bit of a modern twist that everyone will love. 
2.  What's new about this Rodgers & Hammerstein version?
Michele:  This is the Enchanted Version, which is relatively new to the Rodgers and Hammerstein collection, so there are LOTS of new surprises in the show!
3.  What is the most exciting part of this summer camp for you as a director and for the kids?
Michele:  I think for us, it's exciting to be able to work with so many ages at once. We are surrounded by different levels of experience, enthusiasm and development all in one day. The hours fly by and we're never bored!  I love watching the older kids mentor and assist the younger ones and how the younger kids become self-sufficient and grow in self- confidence.
For the children I think working in a multi-aged environment is also exciting. However, not as exciting as performing shows in a beautiful, professional theatre like Chandler Center for the Arts and being on a big stage!
4.  What are the age ranges of the kids involved?
Michele:  We have a cast of 75 young actors ages 3-18!
5.  How did they learn the dancing for the Ball?
Michele:  Jason from ExquisiDance Ballroom Studio in Ahwatukee choreographed the ballroom scene. The kids learned about 10 basic ballroom steps that were integrated into the musical number.
———————————————————————————————
I was so impressed by this group of kids.  They not only interact as a cast, but as a family helping each other out, and caring for one another.  Additionally, there is an enormous amount of talent on this stage.  If you are a fan of musicals, make-believe and happily ever after, this show is sure to put a smile on your face.
Buy your tickets now for shows on June 30th & July 1st  at…
http://www.ticketmaster.com/venue/204850?brand=chandlercenter
Ahwatukee Children's Theatre (ACT) provides children and adults education, appreciation, and opportunities to participate in all aspects of the performing arts, as well as offering family-friendly entertainment to the community at large.  ACT is a 501(c)(3) non-profit corporation, serving the East Valley including southeast Phoenix, Tempe, and Chandler.  (for more info www.azact.org)
About our writer Lisa Walton:
Lisa Walton–Parenting tips, Valley Teacher and Mother
Lisa Walton has been a teacher in the Valley for over 18 years. She holds a Bachelor's Degree in Deaf Education from Illinois State University; and Master's Degree in Special Education from Arizona State University.  She currently works as an itinerant teacher, collaborating with regular education teachers in the public schools.
Read more about Lisa on our team bio page