Manic:  Any type of home improvement project makes me anxious, because I simply don't possess those skills, but our managedmoms.com home, garden and organization expert does!  And she makes it easy for a novice like me!
Managed:  Asking that expert, Bridget to share a simple idea that she recently had that turned a drab door into a decorative design that is fresh and fun to see!  Take a look…
Bridget says: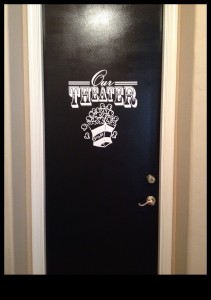 Our home came with a movie room, which was one of the things that attracted our family to this house. The door that leads to the fun room was just a plain white door. It was so blah and would get dirty very easily, so I gave this entrance a makeover.
I have now updated  our door from a white base paint to a black shiny enamel.  It really stands out and looks great!
I then decided to add a decal to the door that would stand out from the rest of the room.  The decal shows that the door leads to a movie room, not to our garage.  Before the paint and the decal,  it was just a plain door that everyone thought was a garage door.  I love how it stands out now, plus it is labeled and clean!  The Our Theater decal is from Design with Vinyl and it is on sale right now for only $16.95 plus $5 shipping.
 You can easily do this too, with any door theme in your home.  Give it a try!
Happy Decorating and Organizing!!