Manic:  My laundry room that houses the laundry, a washer, a dryer, cat food and cat litter!
Managed:  Getting some great ideas from our home & garden and get organized expert, Bridget!  The picture below is not of my laundry room (I'm working on that), but of hers and it looks great!  Check out the simple things she did to make her laundry room inviting and cozy and since we moms have to spend time in our laundry room, washing and folding clothes, this is a good idea.  Check it out…
Bridget says: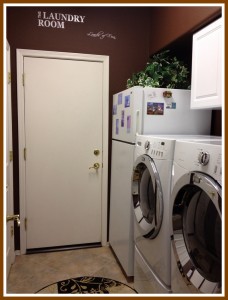 Every couple of years things in my home need to be freshened up, so I spent some of my summer cleaning and painting walls and baseboards.  My laundry room got a fresh coat of paint and it looked so nice, that I decided to cozy it up a bit.  To do that, I added a fun wall decal that says "The Laundry Room Loads of Fun" which I ordered online from Design with Vinyl for $16.95.  It looks great!  Then I added a plant and a nice little rug to give the room warmth.  Next I organized the cabinets.  My next step was to physically take out all of the refrigerator shelves to clean and wash.  Then I stocked it with back-to-school snacks.
It is hard to believe that school already starts up again next week.  We go back early in Arizona.  So with the hectic mornings, homework and sleepovers, there will be little time to organize.
I love my new and improved laundry room and since we enter our home through the garage and laundry room door, this is the first room we see…and the room that takes the biggest beating!  So now that is is nice, I think my family will work at keeping it that way.
Try it!  Having an inviting laundry room also makes it easier to want to immediately fold and put away the clothes.  Do that and you may just stay on top of the loads, too.  It has worked for me!
Happy Organizing and Decorating!