I was recently invited to appear on the AZTV morning show, The Morning Scramble to promote managedmoms.com (woo hoo)!  I couldn't wait to share my website with the "The Morning Scramble" viewers and I did just that.
But while I arrived excited about the segment, I left more inspired by the incredible co-host of the program, Lisa Schneider-Cipriano who is so vibrant, energetic and positive that you would never know by looking at her that she has been dealing with balancing a busy family, successful broadcast career and fighting breast cancer!
Having recently beat breast cancer while caring for her busy family…that includes 10-year-old triplets…and tending to her successful broadcast journalism career…wow…I was floored by her story and by her amazing attitude!  I think you will be too, so read on and meet lovely Lisa, who by the way, is joining our managedmoms.com team of talented writers!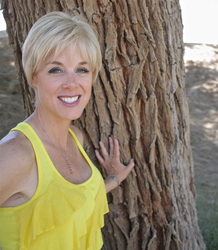 In the summer of 2010, Lisa was a busy mom, balancing the daily demands of triplets and an exciting television broadcast career.  In the midst of all that, on June 9th, Lisa received the scary news that she had breast cancer.
Lisa knew that she was at risk for the disease since her own mother and two aunts had battled and beat breast cancer, but it was still hard to believe.  She immediately felt a combination of fear and numbness.  She wondered if she should tell her morning show viewers about her diagnosis.  Lisa didn't want to be the subject of a pity party, as she says, and she was tempted to keep it all private.  However, after discussing her condition with her family, good friends (that included her super supportive morning show team) and her team of doctors, she decided to go public to inspire other women fighting the disease that they could battle this together.
And so she did.  Lisa endured a bi-lateral double mastectomy that happened to fall on her 44th birthday.  Then came the next steps in the process that Lisa describes here.
Lisa says:
"After 18 weeks of injecting chemo poison into my body to kill off any cancer cells that may have escaped during surgery, losing my hair, pumping up my expanders for breast reconstruction and having other funky side effects happen to me, I am finally rounding the corner of this marathon. All of my doctors told me that this is not a sprint but a marathon…take it one day at a time.
Today, I am on the drug Tamoxifin.  This journey has taught me to live each day to the fullest and to take nothing and nobody for granted.
People I have never met before have approached me, written letters, called and have emailed me stating that sharing my story, empowered them to get a mammogram to check for breast cancer. Early detection is key, don't be afraid, just DO it!"
Here are a few pictures that chronicle Lisa's journey as she rallied against the disease, with the help and love of her family and great friends….and just wait until you read about her amazing group of gal pals!  First let's talk about what many women fear when faced with chemo and that is the difficult process of losing hair.  Here is what Lisa says about that….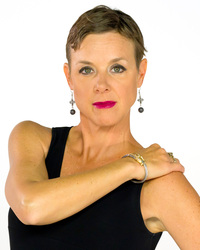 "Well, this was a first!  I have been very blonde…I call my true hair color, "green" from all of the chlorine due to swimming my whole life!  When my hair came back brown and wavy, I was floored!! It has since fallen out again and it is now salt and pepper and very patchy, so I am pretty white/grey right now.  Plus I have some alopecia that I am battling through, so I'm back to my wigs again.  I really struggle with this, but at the end of the day I am thankful that I am still here!  I am very happy to be here, hair or no hair, to enjoy and embrace everyday with my kids and to help those who are going through what I did and continue to do so,"  says Lisa.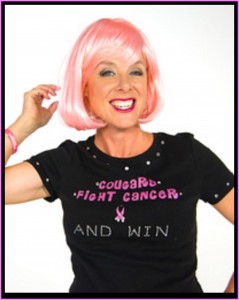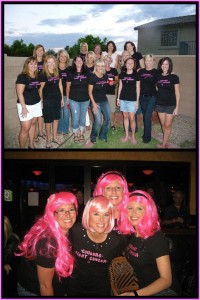 "When I was diagnosed with stage 2, invasive ductal carcinoma breast cancer, my girlfriends (Julie Udall, Julie Atkinson, Amy Welch, Lori Stanton, Shannon Smith, Connie Scholler & Michelle Cole, just to name a few) all rallied together to team up to take care of me. They made these shirts up and all 20 of them would wear the tees with me as I traveled  down this journey.  If it was going to chemo, bringing me dinner, taking me to my plastic surgeon appointments and other surgeries or taking my kids places, they were always there for me.  Some would stop by to help me wash my hair (when I still had it) and I love this shirt and all of the support that I received!"
"Oh, and the pink wig?!  Well, every gal needs to sport one of those every once in a while!!!  It's my Pinky Tuskadero wig ( I have characters for every color I have)," exclaims Lisa. 
And how did Lisa cope with the process of breast reconstruction?  Just take a look….
And through it all, Lisa continued her work as a local media host and personality, while participating in some inspiring and very special fundraising events….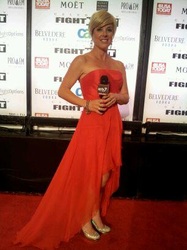 Here Lisa covers the Celebrity Fight Night, which is Muhammad Ali's 18th Annual Celebrity Fight Night, Red Carpet Event.  Lisa says, "I LOVE covering this event!  It has been on my bucket list for a long time!  The red dress is one of my faves!  My friend Mia helped dress me and she put me together with a "wind & a song" budget!   In fact, the shoes cost only $19 from Last Chance!  Can YOU believe it?!  And the dress was 40% off from Dillard's!  It's a Jessica McClintock that I got for $94!  Can you say WOW?!" says Lisa.
"Anywho, I was fortunate to interview Tom Hanks, David Foster, Kyle Massey, Bo Derek, Billy Crystal, Vernon Troyer, aka…Mini Me, Frankie Muniz and Meadowlark Lemon, just to name a few.  And the founder of the event, Jimmy Walker, who has a heart of gold!  At the end of the night, to celebrate Ali's 70th birthday, a HUGE cake came out that was made by Carlos, from the show, The Cake Boss," says Lisa with a lot of excitement in her voice!
And Lisa wants her white dress glam shot to be inspiring to other women fighting breast cancer.  Lisa says, "After battling breast cancer, going through chemo, losing my breasts and my hair, which is still having a tough time growing back, I never thought in a million years that I would be on a runway, this put together!  It truly takes a village!  I was scared to death and excited all at the same time," exclaims Lisa.
You sure can't tell that from the vibrant smile and confident walk she is sporting in the picture.  You go girl!
And what about her family?  Lisa has a loving and supportive husband and three beautiful children, her terrific triplets…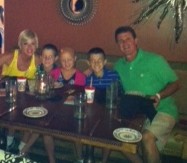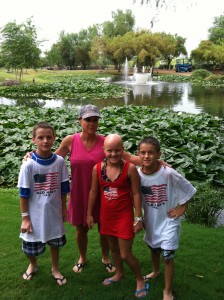 Lisa's darling daughter has her own frustrating hair issue to deal with, too.  Her hair loss is due to an auto immune disorder called alopecia.  Lisa's baby girl was born with hair, but she lost it when she was 2 years old.  Her hair grew back in 2nd grade and is currently trying to grow yet again.  Lisa tells me that 5 million people in the US have it, including princess Caroline of Monaco and the founder of Locks of Love.  Lisa says, plain and simple, that her daughter having alopecia "stinks," but you sure wouldn't know it by the huge smiles that both Mother and daughter have on their faces so much of the time.
Again, I am truly inspired!
Lisa will be sharing a special article with us soon that is all about the amazing social media website she hosts called breastcanceranswers.com.  This extremely helpful site connects patients and/or loved ones with doctors who will answer their specific questions.  Lisa's article will appear on managedmoms.com with more information about this wonderful website that is an invaluable resource for anyone who has questions or concerns about breast cancer.  We look forward to that article.
In the meantime, we whole-heartldly welcome the lovely Lisa Schneider-Cipriano to the managedmoms.com writing team!  What an honor to have her join us to discuss topics like breast cancer, health, fitness, mothering multiples, balancing motherhood with a career and more!  Welcome Lisa and thank you for being such a sunny and positive inspiration!