Happy Saturday!  I hope you are having a nice weekend and enjoying some down time with your pet.  Every Saturday, we post a pet pic to remind ourselves to stop, breathe, smile and take time to hang out with our precious pets.  So today, I have to share this awesome photo that my cousin, Terri Lynn took of our kitty cat, Stanley, as he sat on the top step or our stairs  Our cats love to hang out on the stairs!  Terri house and cat-sat for us during our recent trip to Washington DC and when she sent me this picture, I just knew that I had to share it in my weekly pet pic.  Don't you agree….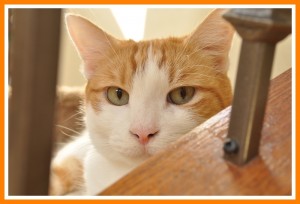 Yep, Stan is sporting some cool cat eyes in this picture!  We rescued Stan from the Arizona Humane Society five years ago and he has been a wonderful, friendly and well-behaved boy!
Send us your pet pics!  We love to get them and we have received some great ones so far!  Email to [email protected]agedmoms.com and have a great weekend!