Manic:  Money…having enough of it, budgeting it, saving it and managing it when you have a family that has daily, sometimes it seems, hourly expenses!
Managed:  Learning about a free website that provides complimentary coupons for families to save on all kinds of stuff. Managedmoms.com reader, Leanne Hunt wrote in to tell us all about her website for families called Koupons 4 Kids.  Here is what she told us about it and we had to share…
Leanne says: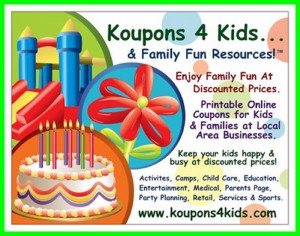 Koupons 4 Kids is a free website for families with children, offering discounts and specials with printable coupons to local area businesses.  There is something for every age group available, from prenatal to our parents page.
Parents have the ability to search activities, entertainment, party planning, retail, sports and more categories to keep their children happy and busy while saving money in the process.  No longer do you have to wait for an offer to appear in your email inbox.
Koupons 4 Kids is more than just coupons, it's a resource for families.  Our Calendar of Events section lets you know what is happening with the businesses on our site.  Join our Birthday Email Club to receive special discounts for the birthday child.  Announcements inform you of their new products and services and we have job opportunities available too.
Keep up to date and informed on what's going on by 'Liking' Koupons 4 Kids on our Facebook page.  Koupons 4Kids is your online resource for family fun at discounted prices.